This review features the following events from the Queer, Trans, Black and Proud programming: Our Voices: Black representation in the media, Our Voices: Kim Katrin, and Queer Black Excellence Showcase. These events can still be watched online here.
This year marked a shift in programming for Capital Pride from Winter Pride programming to a focus on Black History Month centered programming for February. Last month's events highlighted Black excellence in local Ottawa communities and from across the country. The virtual and in-person Queer, Trans, Black, and Proud programming brought important discussions, exciting performances and inspiring moments from multiple speakers and performers.
The Queer, Trans, Black and Proud programming kicked off with a discussion about Black representation in the media with Kimora Amour from Season Two of Canada's Drag Race and writer and educator, Shanese Anne Steele. The discussion was moderated by Osmel B. Guerra Maynes, the Director of Organizational Development, Community & Culture at HQ Toronto and previous Executive Director of Capital Pride. The three discussed childhood inspiration from strong Black role models in the media from their childhoods, finding strength when dealing with stereotypes and more.
Osmel guided a genuine discussion about finding a sense of belonging and home in queerness as well as in Caribbean culture. This discussion brought up the importance of 'Black love' and the ability Shanese Anne Steele had to discuss acceptance of queerness in Black communities in the show '1 Queen 5 Queers.' In the show she was able to discuss the importance of love between Black folks and finding internal acceptance as well as creating accepting and supportive spaces for Queer and Trans Black folks.
Kimora Amour also had an instrumental moment for Black representation in the media when she portrayed a slave on Canada's Drag Race to showcase the ugliness of the world and visualize the pain and suffering caused by slavery. Kimora shared that she brought to life the concept and costume created by fellow Drag Queen Anastarzia Anaquway. This moment impacted people all over the world and Kimora received messages from people in many countries who were able to relate to their own blackness and also to their feelings of queerness in relation to their countries. Moments like this are few on Canadian television and it brought awareness and helped people to change the way they see things and relatability for those within queer, Black communities to feel represented and understood.
Both Kimora Amour and Shanese Anne Steele mentioned the importance of seeing folks that looked like them behind the camera as well because it created a safer environment. Shanese described it as a feeling of support and feeling like there was someone else there to look out for her and stand up for her if she needed. All three echoed similar sentiments about the importance of representation behind the camera and in the writing room, not just on screen to share Black stories and support Black creators. Many more moments like these were shared between the three as Osmel guided the conversation to discuss how to work on inclusion, hopes for the future, and things that people can do on an individual level to be anti-racist and create better Black History Months in the future.
The powerful conversations and empowering messages continued with Kim Katrin, an internationally acclaimed educator, consultant & social entrepreneur who shared an inspiring keynote presentation in Capital Pride's second event. She discussed allyship, personal and professional growth and the importance of looking at growth and mistakes as tools to learn rather than ways to become perfect. She shared some powerful insights about the importance of problem solving and centering empathy when communicating with others.
"When we are able to acknowledge that we don't know what's right for everyone and we can be engaged in a conversation and discourse where we get to learn and unpack that, we are better off in the way that we treat each other," shared Kim Katrin. She discussed the importance of listening with the intent to hear what the other person is saying instead of with the intent to respond. Her discussion extended from communication and ways to approach allyship to personal growth and ways to find self forgiveness.
All of Kim Katrin's insights can be appreciated in her full presentation here to learn more about working on allyship as a process, finding authenticity in yourself and in communication with others, building community and more.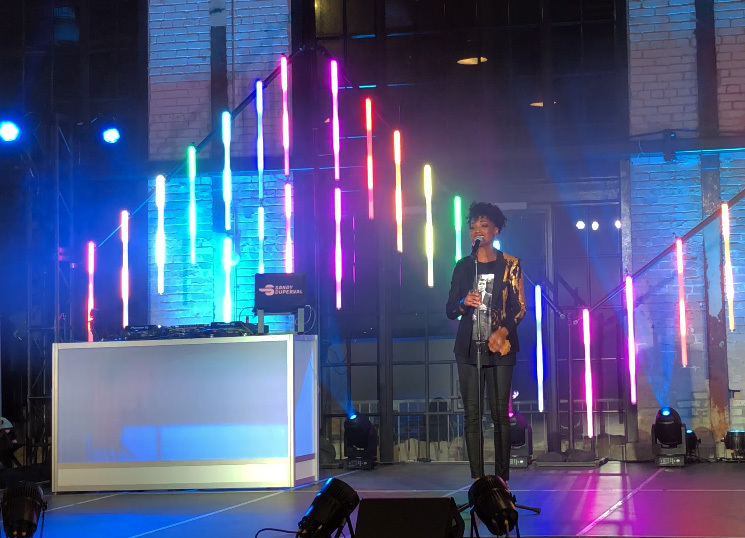 The Queer, Trans, Black and Proud programming closed off with an exciting party at the Horticulture building that can still be enjoyed virtually here. The event featured performances from Canada's Drag Race Season 2 finalist Kendall Gender, Call Me Mother Judge Barbada, DJ Sandy Duperval, Drag King Manny Dingo, hoop dancer Makhena Rankin-Guerin, and Drag Queen Aimee Yonce Shennel. The night of performances continued the theme of centering Black excellence through engaging performances, glittering costumes with dynamic reveals and moments of comedy from the host Barbada and her interactions with the performers and crowd.
The evening began with a beautiful hoop dance performance from Makhena Rankin-Guerin and continued with multiple drag performers that did more than just share exciting dance moves. Aimee Yonce Shennel began her first performance with the powerful visualization of breaking the chains of oppression and continued to showcase Black liberation and excellence in her performance song choices. It was an evening of joy and celebration that brought Capital Pride's Queer, Trans, Black and Proud programming to a close with a well coreographed bang.
Through a tumultuous month, these events provided virtual and in-person safe spaces to celebrate Black culture and provide a reminder of the importance of Black History Month. These events centered the experiences of Queer and Trans folks of colour in the works of 2SLGBTQ+ advocacy and activism. Though Black History Month is in February, every event provided stories, ways to learn and grow to continue to center Queer and Trans Black folks throughout the year and celebrate Black History all year round.