In this inaugural year, Capital Pride's Public Art Project brings together 6 artists and creators. Each project reflects the theme "All Together Now" or Capital Pride's broader mission which is to create opportunities to celebrate, advocate, educate and connect people, respecting the full diversity of the 2SLGBTQ+ community.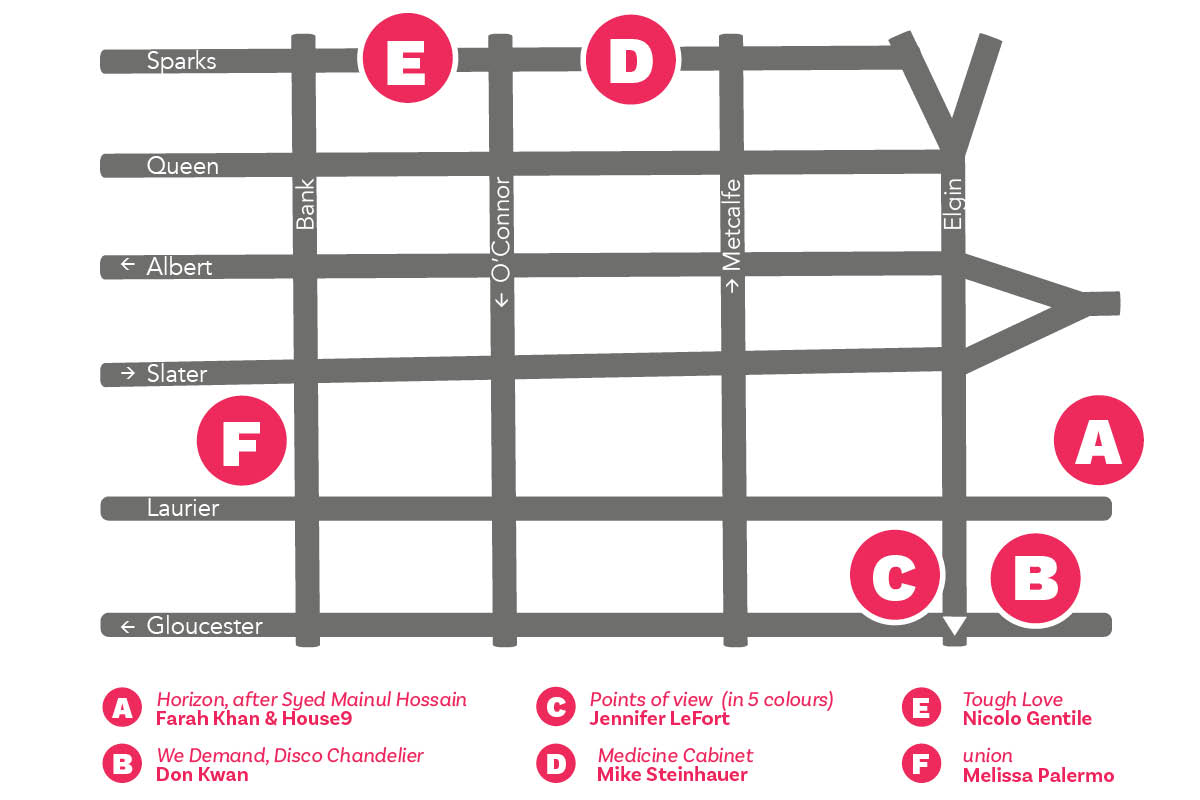 Horizon after Syed Mainul Hossain
Farah Khan & House9
Confederation Park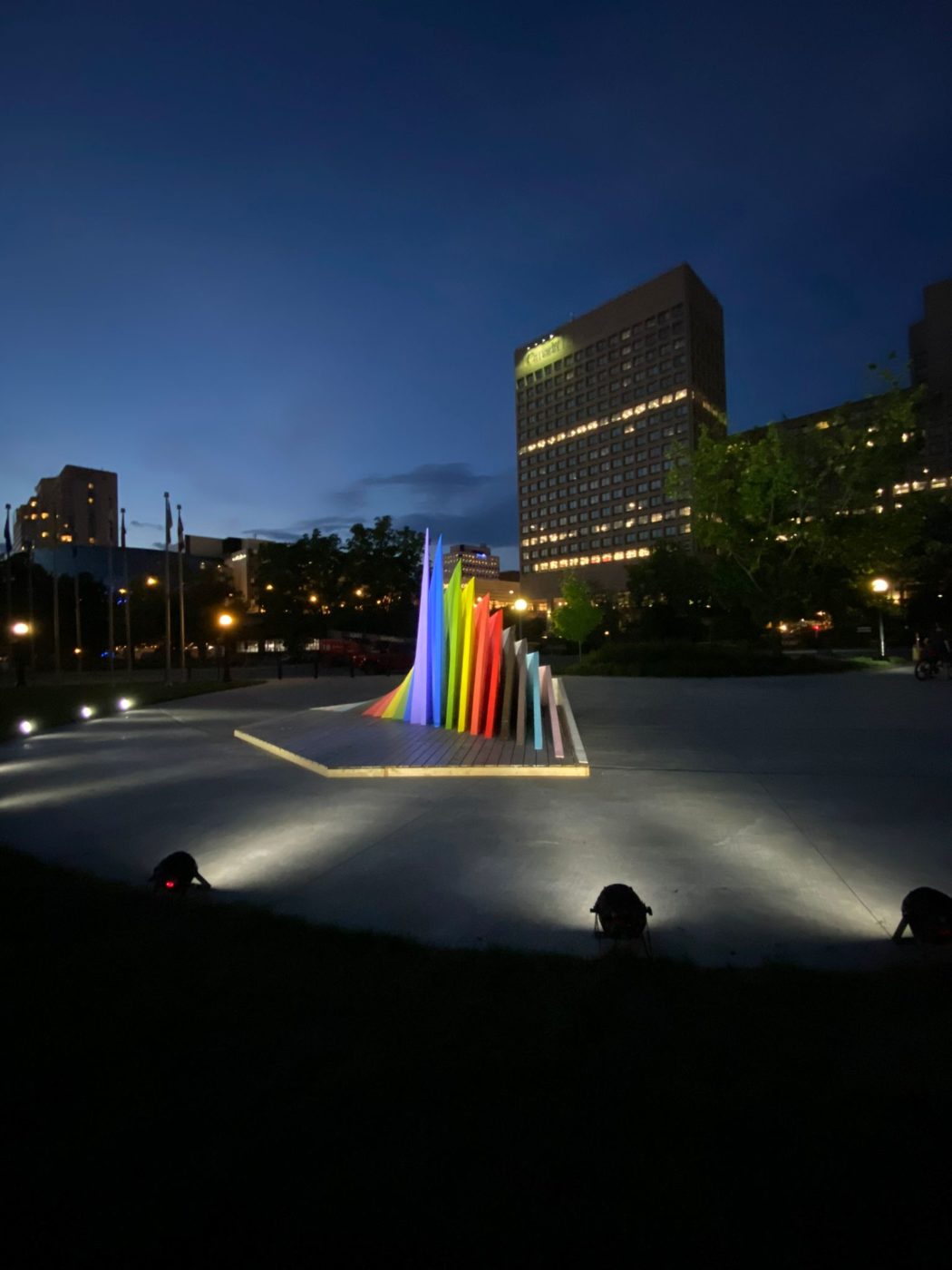 Reinterpreted by Farah Khan and the team at House9, a Montreal-based graphic design studio, this commissioned piece pays homage to the National Martyrs' Memorial in Bangladesh. The original monument, designed by Syed Mainul Hossain, commemorates those who died during the 1971 Bangladesh Liberation War. House9 has adapted the original design by increasing the number of triangular walls (from 7 to 11), and painting each wall in one colour from the Progress Pride Flag. Farah herself is a queer woman from Bangladesh, seeking greater knowledge and representation of Bengal's artistic legacy. While drawing attention to her country's contributions to the fields of architecture and design, she aims to recognize all those who, often against dangerous and seemingly impossible odds, have fought for LGBTQIA+ liberation worldwide through resistance, resilience, allyship and celebration.
Dedicated to Bangladesh's Hijra community
ABOUT THE ARTIST
House9 is a collaborative graphic design studio founded in 2005 by Farah Khan, a queer woman and immigrant from Bangladesh. Working with local and international artists, researchers, non-profit organizations and cultural institutions, we develop dynamic projects in all areas of print and interactive design. Our predominantly issue-driven, experimental work, designed in service of human causes and creativity, is rooted in equity and social justice, contemporary aesthetics, and a rigorous work ethic. We prioritize building client relationships that are kind, empathetic and visionary. The 9-person studio has always been inclusive: six of us are queer, and 3 are BIPOC. Four of us identify as men, three as women, and two as non-binary. We are based in Montreal.
---
We Demand, Disco Chandelier
Don Kwan
Ottawa City Hall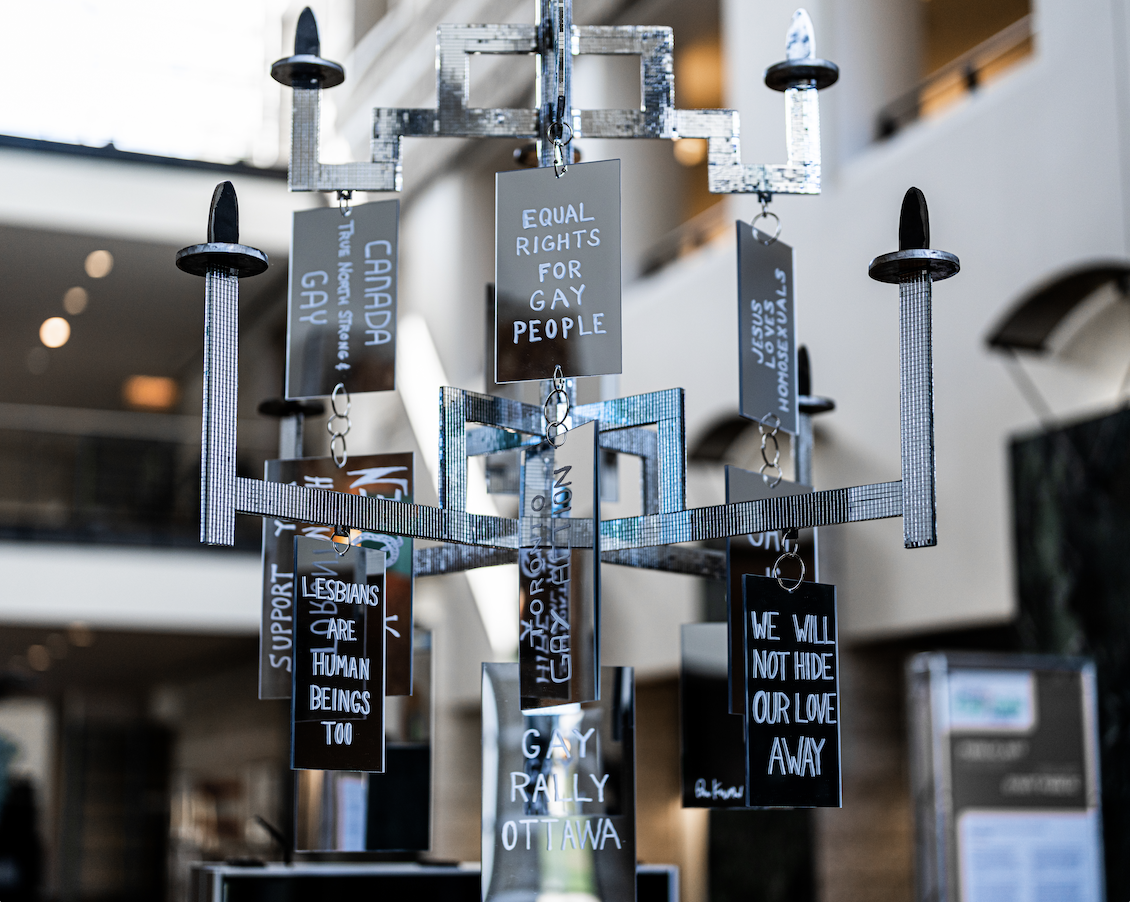 The Sculpture references both the importance of the disco ball and chandelier as hallmarks of queer culture while at the same time acts as a scrapbook celebrating Canada's historical queer moments of strength and resiliance.
Kwan uses the importance of these objects, the chandelier and disco ball, to tell the story of queer history in Canada, noting Ottawa's first queer protest. The "We Demand Rally" was the first large scale gay rights demonstration in Canada. The rally occurred on August 28, 1971 in Ottawa and subsequently the year Kwan was born.
"We Demand, Disco Chandelier" is a collision of artifacts that connect us to LGBTQ2S+BIPOC experience and history.
ABOUT THE ARTIST
A third-generation queer Chinese Canadian visual artist, based in Ottawa. Don Kwan turns to his own experiences and challenges of being a gay, East Asian artist as a way to ground in broader conversations about identity, representations, and intergenerational memory-making in the Diaspora.
As a community builder and recent recipient of the 2022 Ottawa Art Council Mid Career Artist Award, Kwan is an active member of the arts community.
Kwan's leadership in his family's intergenerational business, the Shanghai Restaurant, has inspired mainstay parties such as Divergence Movie Nights, Shanghai Beats, Festiv Asia, Chinatown Craft Market and other community events. He is notably the force behind the Chinatown Remixed Art Festival 2008 to 2022 and guides tours for Chinatown.
Kwan regularly draws from common and powerfully symbolic found objects and forms. He redeploys them in provocative, and playful ways; delivering complex, and nuanced concepts in an open framework for interpretation that evokes both familiarity and wonder.
Through a discourse and examination of his own family's history of more than a century in Canada, Kwan considers the question: What does it look like to belong in the Canadian landscape?
---
Medicine Cabinet
Mike Steinhauer
Sparks Street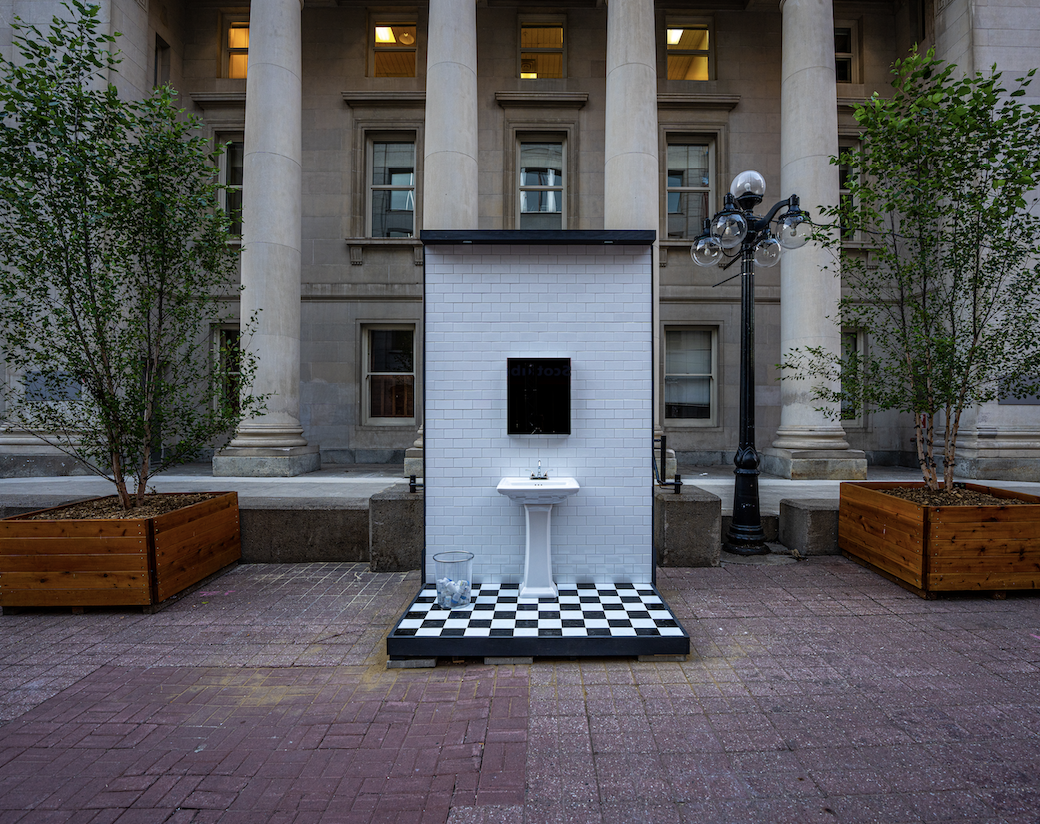 Medicine Cabinet pays homage to a generation of queer people that fought for the rights and opportunities so many of us enjoy today. The tiled wall and sink reference a bathroom found in New York during the 1980s when the city was the epicenter of the AIDS epidemic. Placed in the wire trash can are empty bottles of antiretrovirals and PrEP—a pre-exposure prophylaxis used today to reduce the risk of HIV infection.
The blue capped bottles reference AZT—the first drug to treat those with HIV and delay the onset of AIDS. Unlike the drugs prescribed today, AZT had significant side effects and was extremely toxic. While both AZT then and PrEP today mark critical advancements, inequities in access continue.
You are invited to step up to the work, to add your own empty bottles or to simply sit on a bench to pause and reflect. The collected bottles will be reused for a future presentation.
ABOUT THE ARTIST
Mike Steinhauer is a queer Ottawa-based photographer, conceptual artist and freelance writer. He has a Master of Arts from Carleton University and a Bachelor of Arts in History of Art and Visual Culture from the University of Alberta.
Mike's work has been featured in a number of exhibitions. Most recently, his work was included in Reality Vanishing In Plain Sight, an exhibition organized by the Propeller Art Gallery, Toronto. His installation, The illusion of choice, was presented at Queens University's Union Gallery in Kingston. His photography has been featured in a number of publications including Al-Tiba9 Contemporary Art's Interview publication and on the cover of HAS magazine, a project by UNESCO and Mémoire de l'Avenir. Born in Luxembourg, Mike now lives with his partner here in Ottawa.
---
Tough Love
Nicolo Gentile
Sparks Street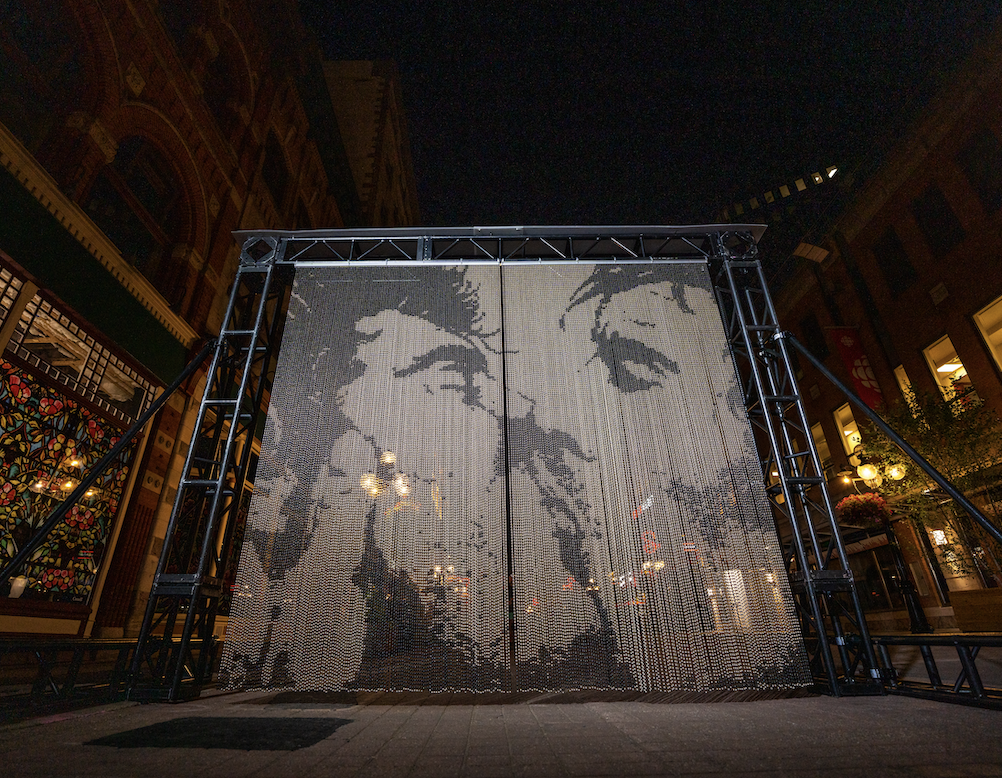 In Nicolo Gentile's work Tough Love, the architecturally-scaled ball chain curtain, a monumental feature of public cruising and sex clubs, is reenvisioned as an experiential threshold to queer imagination, radicalism and archive. A queer club and kink image is rendered fractured, porous and unfixed on the curtain's surface. Temporarily animated by the viewer passing through, this work explores both a radical and fraught Queer history and offers the act of remembrance as a gesture of communal mourning, celebration, and exegesis.
What was forgotten on the road to assimilation? How can past tactics of resistance be repurposed to address ongoing issues of alienation and political complacency? What are the capacities of pleasure and ecstasy? What potential lies in the tension between looking back and moving forward?
ABOUT THE ARTIST
Nicolo Gentile is an artist and educator living and working in Philadelphia, PA. Composed of leather, latex, iron and steel, his sculptures and installations slip between recognizable materials of kink, industry and sport to address the commodification of queer aesthetics and the oscillating power dynamics of gender, whiteness and masculinities.
He received his Master of Fine Art in Sculpture at The Tyler School of Art and Architecture of Temple University. His work has been exhibited in the United States and internationally in Philadelphia, New York, Portland, Los Angeles, Paris, Melbourne, and now Ottawa.
---
union
Melissa Palermo
Snyder Plaza (Bank St & Slater St)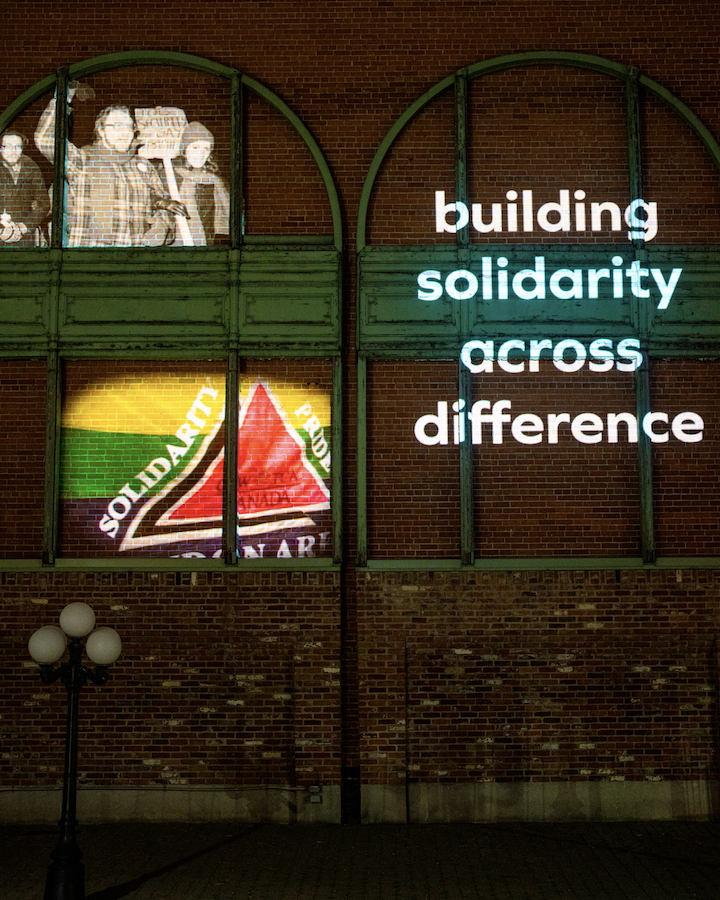 union is a video installation about coming together across movements.
From challenging workplace discrimination to winning marriage equality, solidarity has been a key part of the fight for 2SLGBTQ+ rights. Workers' movements have been important partners in these struggles for justice.
Through archival materials, union provides a glimpse into coalitions between 2SLGBTQ+ and labour movements. The moments featured include protests demanding job security for gay workers, the struggle for same-sex spousal recognition, and Lesbians and Gays Support the Miners, a UK group that supported the National Union of Mineworkers during a year-long strike from 1984-1985.
These moments are presented as windows. They are an invitation to consider the labour of building coalitions and finding common ground in the fight towards justice.
ABOUT THE ARTIST
Melissa Palermo (she/her) is a queer, Toronto-based artist and designer working in the labour movement. Her artistic practice uses digital media to visualize stories and experiences. She believes that connecting the personal to the political is integral to empowering movements and gaining public support.
---
Points of View (in 5 Colours)
Jennifer LeFort
150 Elgin St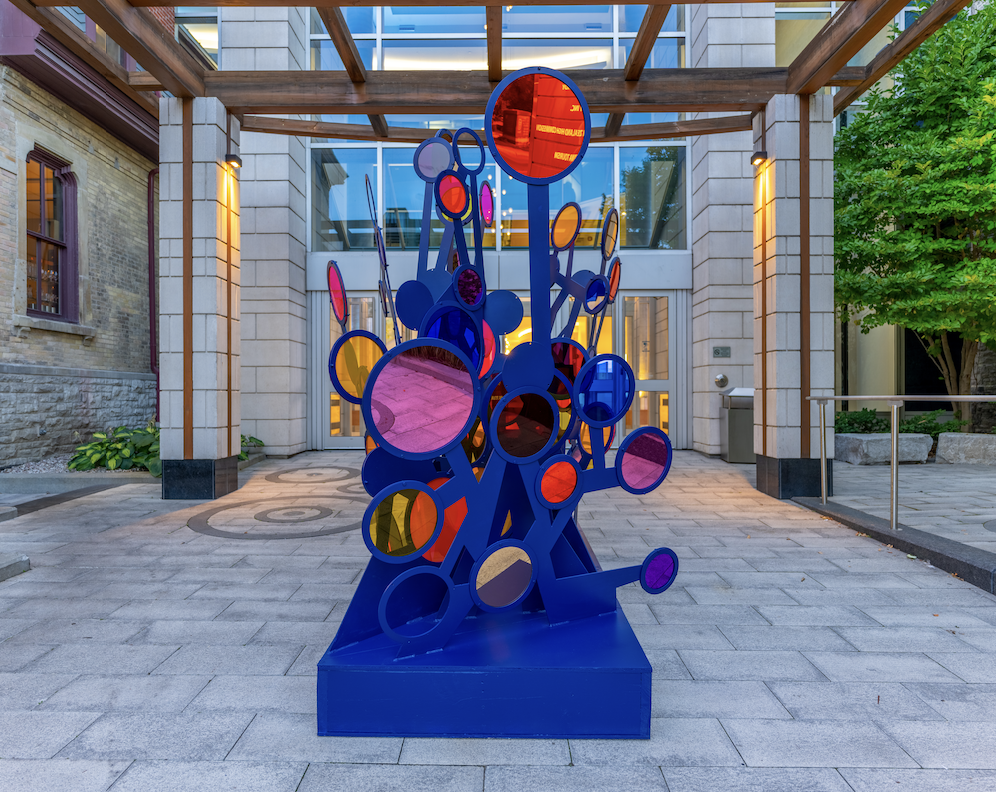 This abstract sculpture is a reflexion on how perception can be altered from simply changing points of view. The structure is composed of several solitary pieces that are united by a common colour. Each piece is unique but easily melts into the grouping to form a dense yet expressive unit. Here, you are invited to look through the coloured circles and into the mirrored shapes of the artwork. How different do things look in pink, orange or blue? How does it feel to see yourself and others reflected in the sculpture? In a matter of seconds, in the shift of a glance, or in a few steps left or right, the discovery of a new experience is made. With open eyes, this perceptual shift is omnipresent.
ABOUT THE ARTIST
Jennifer Lefort was born in Montreal and currently works in Gatineau, Quebec.
Her approach to abstraction invites the viewer's imagination to expand in observing colourful and gestural combinations, where reinvention and openness are fundamental elements. The artist was shortlisted for the prestigious Contemporary Art Prize from the Musée national des beaux arts du Québec in 2018. In 2016 she was the recipient of the Artwork of the Year Award by CALQ. In 2016 she was also invited to be an artist in residence in Los Angeles, supported by the Canada Council. As a parent, aunt and friend to so many in the community, the artist felt deeply moved to have the opportunity to share an artwork during this year's Capital Pride.
---
Capital Pride would like to recognize the following partners who have supported this project: City of Ottawa, National Capital Commission, Sparks Street BIA, Bank Street BIA and Morguard.
Project Managers: Junia Jorgji & Whitney Gattesco
Videographer: Dylan Holton, Capital Content
Infrastructure: Optimal Show Experience & ANEX Works