Your 2021 Capital Pride Pageant Court: Where are they now? A drag royalty retrospective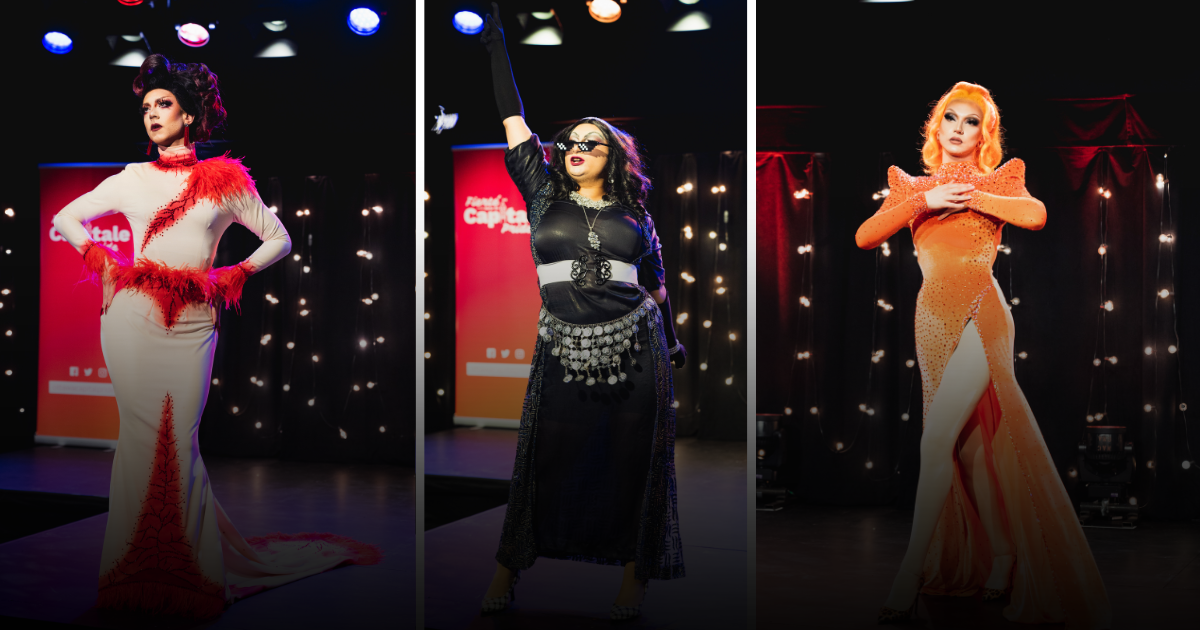 With a drag scene as strong and vibrant as there is in Ottawa, it is truly no wonder as to why every year so many people line up to both watch and participate in the annual Capital Pride Pageant. As an event which has progressively garnered more notoriety throughout the years, the Capital Pride Pageant consists of drag performers competing to win one of three titles: Ms., Mr., and Mx. Capital Pride. The challenges may vary from year to year, typically including runway (look) categories, lip-sync/dance performances, and Q&A sections where a performer can explain who they are and what drives them. The winners of the pageant receive a crown in addition to their title, which comes with many performance opportunities and bragging rights.
This last 2021 Capital Pride Pageant came full of surprises, with a final royal court made up of Mx. Capital Pride Bella Du Maurier, and two, yes two, Ms. Capital Prides, Saltina Shaker and Shea D. Ladie. Throughout the past year, the pageant winners have performed at multiple stages throughout the National Capital Region and have enjoyed numerous other opportunities resulting from their reigns. All three drag artists graciously agreed to be interviewed in order to shed some light upon their experiences as the newest inductees to the Capital Pride royal court.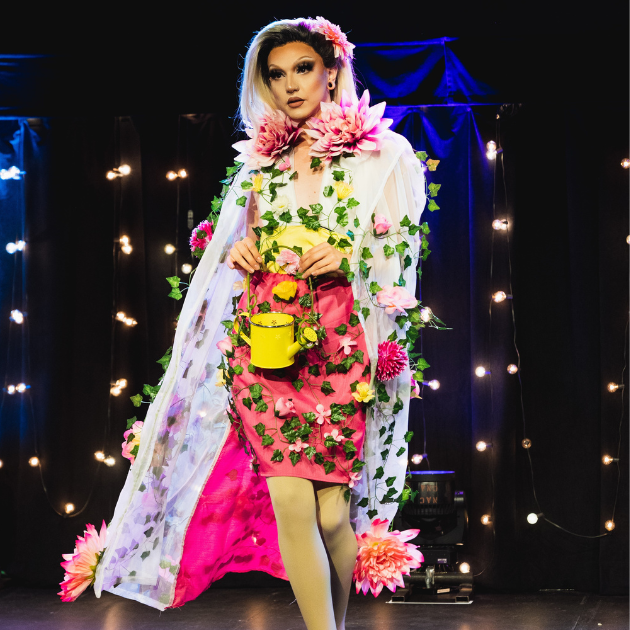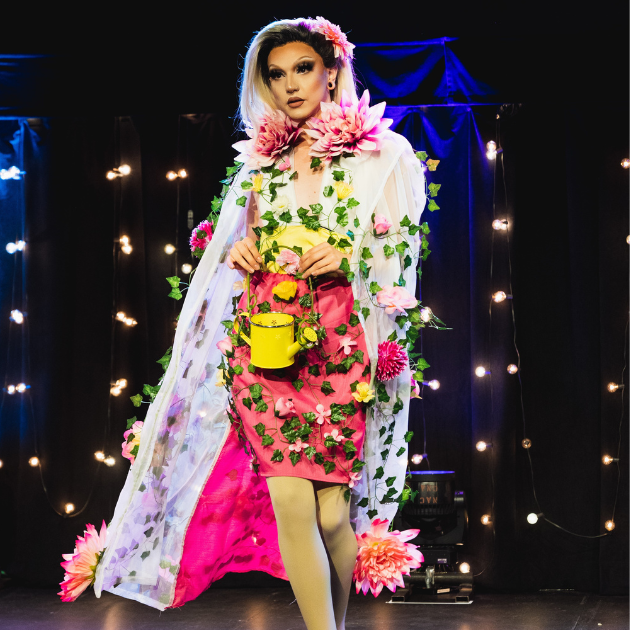 Shea D. Ladie (they/them/she/her), a well-renowned and highly respected queen, as well as a drag hairstylist (@SheaD.esigns on instagram!) graced the Capital Pride stage with her sickening signature style. Shea describes their drag as "classic glamour with a modern twist," and aims to spread positivity with their performances. They expanded, "My drag is about embracing who you are and loving every piece of yourself. Even if it's hard on some days, find something you like and focus on that." Shea secured her place as Ms. Capital Pride through both her incredible performances and jaw-dropping looks. "It was my second time competing in the pageant, and it was a lot different than I had expected, but I was so excited." They recalled, "We had to present three looks, almost like a drag race ball challenge. The first look was made completely from scratch using only unconventional materials. It was a big task but it was a lot of fun." When asked what it felt like to compete, Shea recounted, "I went home that night and teared up because I did that: it was all me, the style, the concepts, the hair, it was all mine and it turned out so great." During their reign, Shea took their drag to places that they hadn't foreseen. "I was able to bring drag back to my hometown, Timiskaming First Nation, Quebec. It was their first pride week and I was so proud to represent Ottawa and Ottawa drag." They continued, "Being an Indigenous person and winning something that isn't necessarily Indigenous is good representation: me just having this crown puts Indigenous people in the spotlight; we're here, and we're just as fierce as anyone else."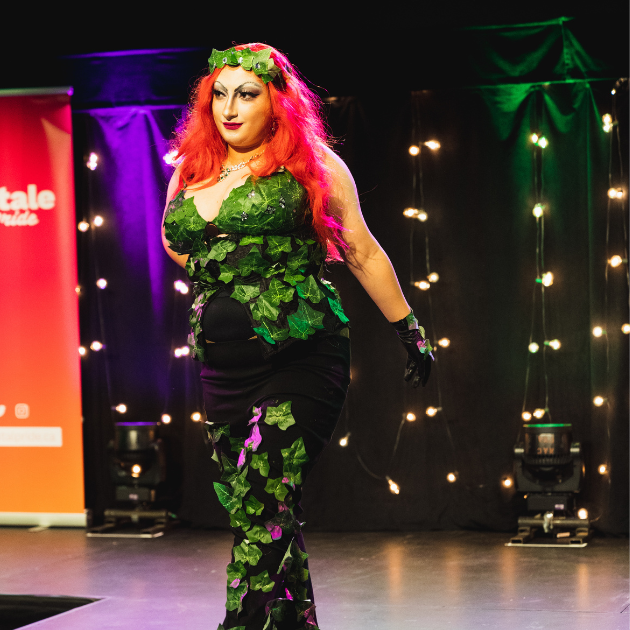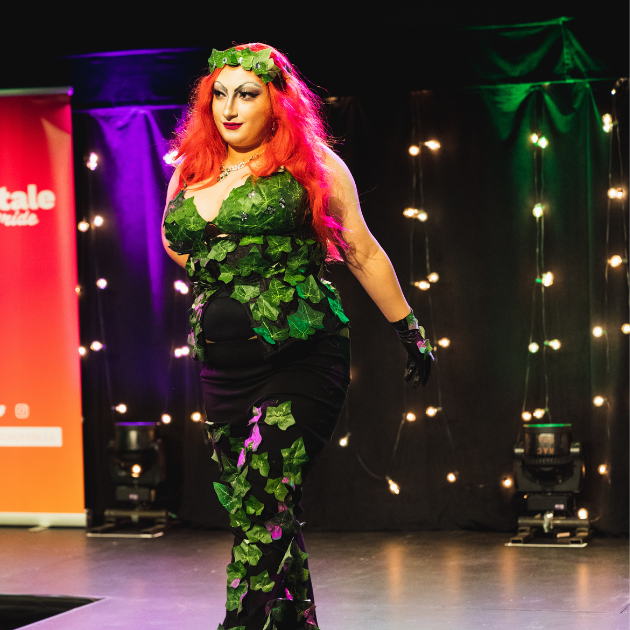 Bella Du Maurier (they/them) blew away the judges with their incredible lip-sync skills and unique drag style. Bella describes their drag as more on the edge, finding inspiration in thrillers and pulp fiction covers. "I've always loved horror and mystery; my drag name is actually a reference to the TV series Hannibal." They explained, "Bella is a mix of the Belladonna flower, which is known to be really beautiful but very poisonous, and the name of my favorite character in the series, Bedelia Du Maurier." Bella and Bedelia share a great deal in common: they elaborated, "I've been quite open about being a survivor of domestic abuse at a young age. I found solace in her character because she was there for someone who abused her trust, yet she had this underlying strength that she always found within herself." They went on, "Drag has been a great way to cope and deal with the past. The other day, I did a number that really helped me cope with my abuser: when he came into my mind, I put all of the emotions, the grief, into my number… Drag helped me survive." More than surviving, it was apparent to the judges of the 2021 Capital Pride Pageant that Bella was a performer who thrived on stage. However, unbeknownst to many, Bella was dealing with health issues at the time which led them to be wheelchair bound on the day of the pageant. "It doesn't show on the runways, but behind the scenes I was dealing with some complications which made it hurt like hell to walk. Nonetheless, it was quite the experience, and as someone who wants to work in the TV industry, the filming component was so much fun." They added, "I want to give a big shoutout to Zoe Catrina Knights, my drag mother, without whom I don't know if this would have been possible." Bella shined throughout their reign, delivering numerous iconic performances. "I want to say thank you to the community for having my back, and proving that my reign wasn't in vain: I am one of Ottawa's first Kurdish drag artists, and I'm so proud of everything I've accomplished." They concluded, "Thank you to my drag family, and all the artists I work with at Atomic Rooster and Swizzles, I've had a lot of self-doubt in the past, and my community's support means everything."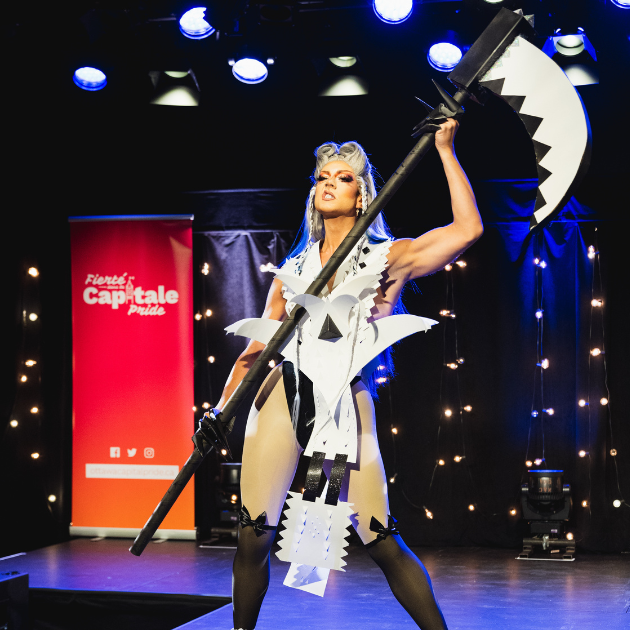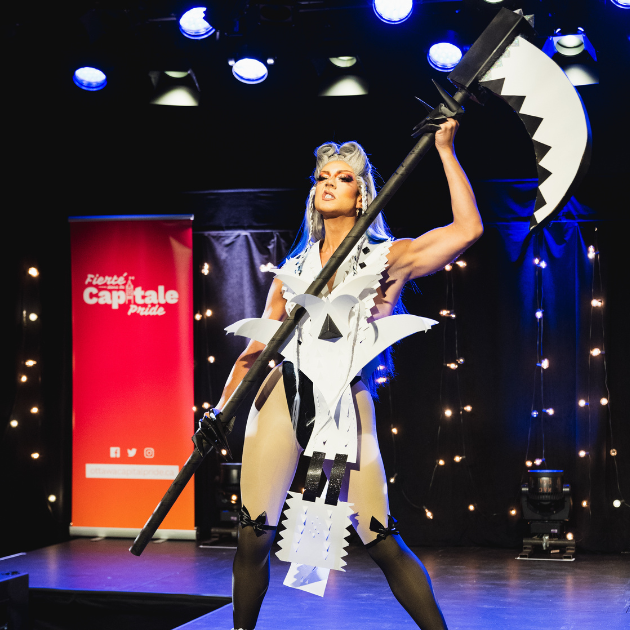 Saltina Shaker (she/her), an internationally known queen and TikTok content creator (@saltinashaker on all platforms!), showcased a side to drag the likes of which has never before been seen on the Capital Pride Stage. Saltina described her style as quite eclectic. "My drag is inspired by video games, anime, and pop culture, really anything that intrigues me. Whenever I start a new anime or video game, I see those characters as someone I want to be." She explained, "I can immerse myself in those worlds, Saltina is a great way to bring it all to life." When asked to speak on her competing in the Capital Pride Pageant, she recalled how it was a rollercoaster of an experience. "I'm so proud of all of my looks and the concepts I brought to the table. However, I put way too much pressure on myself, I tried too hard to represent a group rather than myself." She went on, "[The pageant] opened my eyes to what I should be doing in future competitions and shows in general: to unapologetically represent myself and my story." After an unfortunate accident several years ago, Saltina was left with disabilities as a result of severe injuries, and had a long road to recovery. As such, winning the pageant bore a profound meaning to her. "It's been a dream come true, I've always been proud to represent my disabilities and hardships. To put my story out in the world and have other people relate to it has been really empowering." Throughout her reign, Saltina has been able to perform multiple times for Capital Pride audiences, recalling the Capital Pride Royalty Show in June 2022. "At that performance, I revealed my scars in a sexy way to a Doja Cat number. I had this sudden realization that I went so far in making my scars a positive thing, and representing both myself and my community in a positive way." She stated, "It resonated so much with people, ironically more so than the performances I gave where I tried too hard to give people what I thought they wanted. Yeah these are my scars and they're visible. So what? This is my body, and this is how it is, I'm gorgeous."
Although their reigns are unfortunately coming to a close, it is incredible to see the diversity and beauty of the drag artists who represented Capital Pride in 2021. If there's one thing to take away from all of this, it's that this coming 2022 Capital Pride Pageant will be full of twists and turns around every corner. With a whole new batch of drag artists once again competing for Ms., Mr., and Mx. Capital Pride, this is a show which you absolutely do not want to miss. Tickets for this year's pageant, hosted at the National Arts Center, will officially go on sale in the coming weeks.