With the 2023 Capital Pride Festival right around the corner, we are thrilled to announce this year's Grand Marshal and Honoured Group. Capital Pride's awards program celebrates the local 2SLGBTQ+ community. Our recipients are leaders engaged in meaningful work in the local area. Each year, our recipients lead the annual Pride Parade.
Grand Marshal: Fae Johnstone
Fae Johnstone is a trailblazing trans woman, small business owner and a leading voice on queer and trans rights in Canada. For 10 years, she has challenged Canadian governments to advance systemic change for 2SLGBTQ+ communities. She is an organiser, writer and frequent media spokesperson on queer issues.
Fae is the Executive Director of Wisdom2Action, a consulting firm that works with nonprofit, public and private sectors on queer inclusion, community engagement and organisational development. She is the President of the Society of Queer Momentum – a 2SLGBTQIA+ advocacy nonprofit challenging rising hate and stagnating government action on queer issues. She is the first trans woman to serve on the boards of directors of YWCA Canada and Oxfam Canada.
"Pride was founded in protest, in a radical dream of a better world for all queer and trans people Amidst a global rise in anti-2SLGBTQIA+ hate, we need to Get Loud and Get Proud. We need to challenge government inaction, confront hate and come together as a community to celebrate all we have to offer the world. This pride season, I call on all of us to redouble our commitment to queer liberation, to remember those we've lost, and fight like hell for the living. I've spent the past decade advocating for 2SLGBTQIA+ liberation, and that's exactly the energy I'll bring as your 2023 Grand Marshal."

Fae johnstone
For her advocacy and visibility as a trans woman, Fae has been targeted by far right and anti-trans movements across North America. In March 2023, Fae was included in a Hershey's Canada International Women's Day ad initiative which spawned an international boycott campaign against Hersheys, and a tsunami of hate directed Fae's way from far right figureheads and media around the world.
Fae has been named an "Emerging Social Impact Leader" by The Peak, a "Top 30 Social Purpose Newsmaker" by Future of Good, "One of Ten Spectacular Canadian Women to Watch" by Notable Life, and was the 2016 recipient of LGBT YouthLine's Trans Activist Award.
Honoured Group: The Ten Oaks Project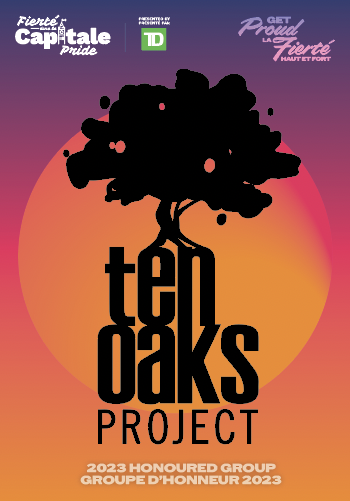 With its unwavering commitment to creating safe and empowering spaces for children, youth, and families of 2SLGBTQIA+ communities, the Ten Oaks Project embodies the spirit of pride and inclusivity and is Capital Pride's 2023 Honoured Group.
As we Get Proud, we celebrate the resiliency of 2SLGBTQIA+ communities and there couldn't be a more fitting Honoured Group for this occasion than the Ten Oaks Project. Since launching its first summer camp in 2005, the Ten Oaks Project has made a significant impact on children and youth from 2SLGBTQIA+ families and communities in Ottawa and beyond.
Building community has always been how we persevere. Ten Oaks exists to carry on this legacy and ensure that 2SLGBTQIA+ families and communities in Ottawa and beyond have the supports and spaces they need to thrive. When we Get Proud together, nothing can stop us."

Lux, Executive Director of Ten Oaks project.
Camp Ten Oaks is still going strong and the Ten Oaks Project now runs a host of other programs, including education and support for families of newly out trans and gender diverse young people, a camp for youth with connections to Indigenous Wellbeing Agencies and Children's Aid Societies, and a monthly social space for trans people in Ottawa to build intergenerational community.
Learn more and donate to support Ten Oaks Project at www.tenoaksproject.org
— 30 —