To align with public health guidelines, the third annual WinterPride festival will take place online. Though there may not be opportunities to celebrate in person, we're committed to bringing together the 2SLGBTQ+ community to celebrate our truth. Taking place from February 8-12 during Winterlude, the National Capital Region will be dazzled by virtual festive winter activities, performances, and much more.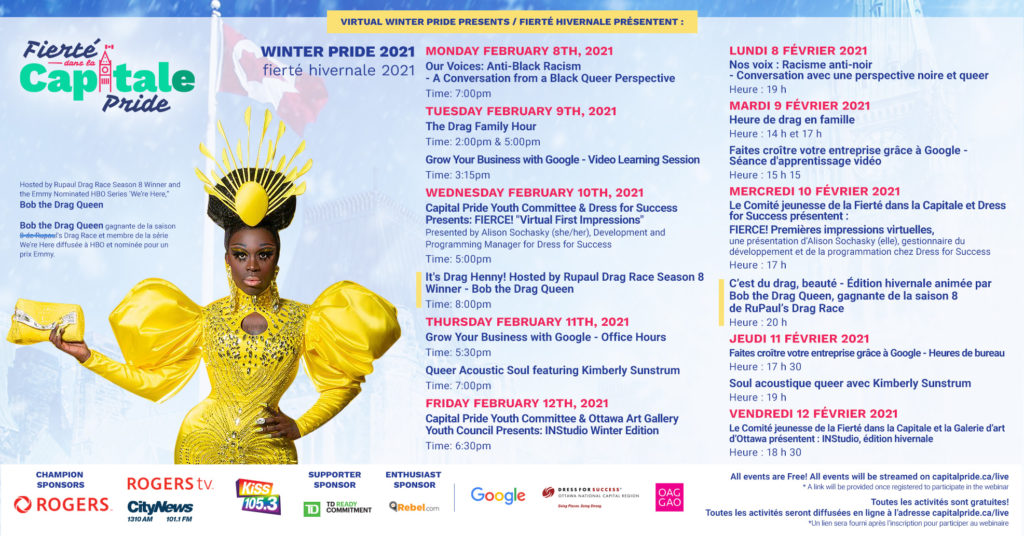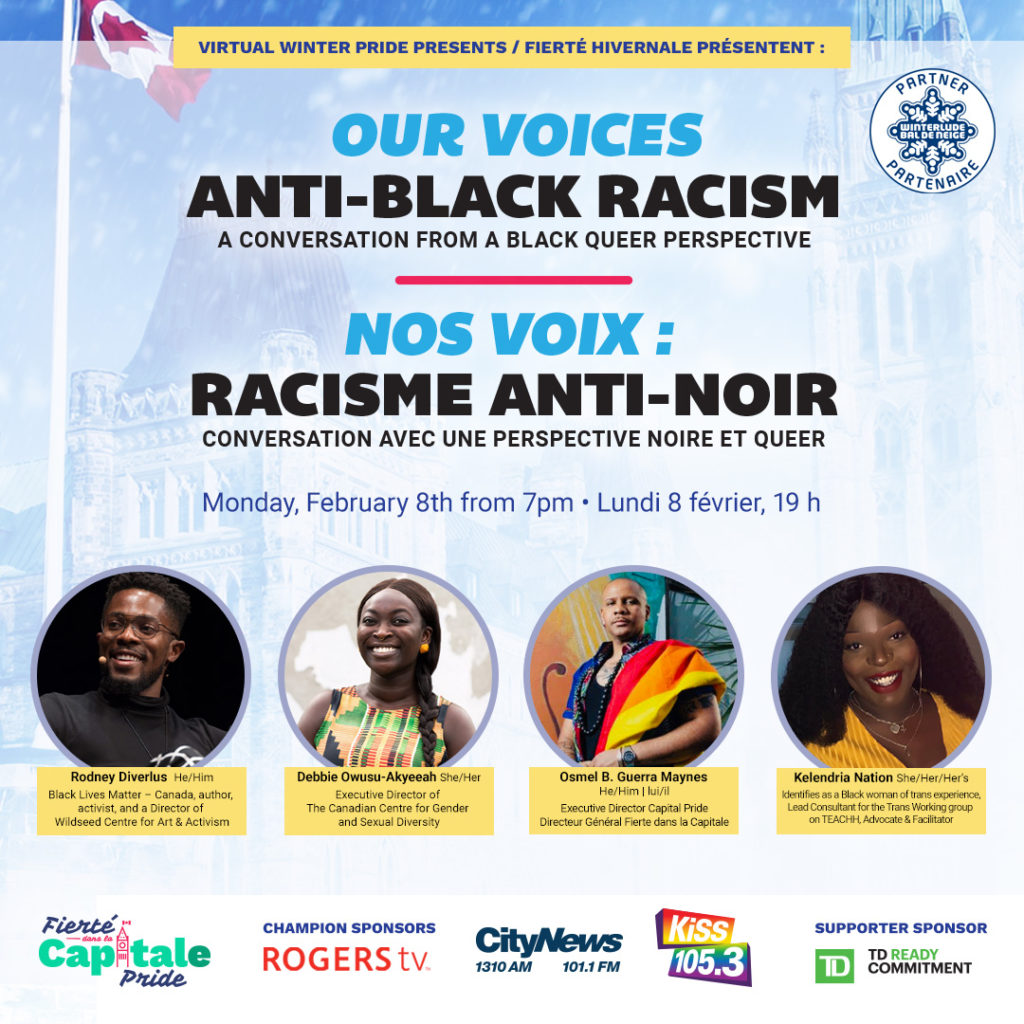 Our Voices: Anti-Black Racism – A Conversation from a Black Queer Perspective
Monday February 8th, 2021 7:00 PM EST
Furthering our mission to create spaces for marginalized members of our community, we are excited to present Our Voices: Anti-Black Racism – A Black Queer Perspective speaker series featuring Rodney Diverlus (He/Him) and Debbie Owusu-Akyeeah (She/Her), Kelendria Nation (elle) and moderated by Osmel B. Guerra Maynes (He/Him)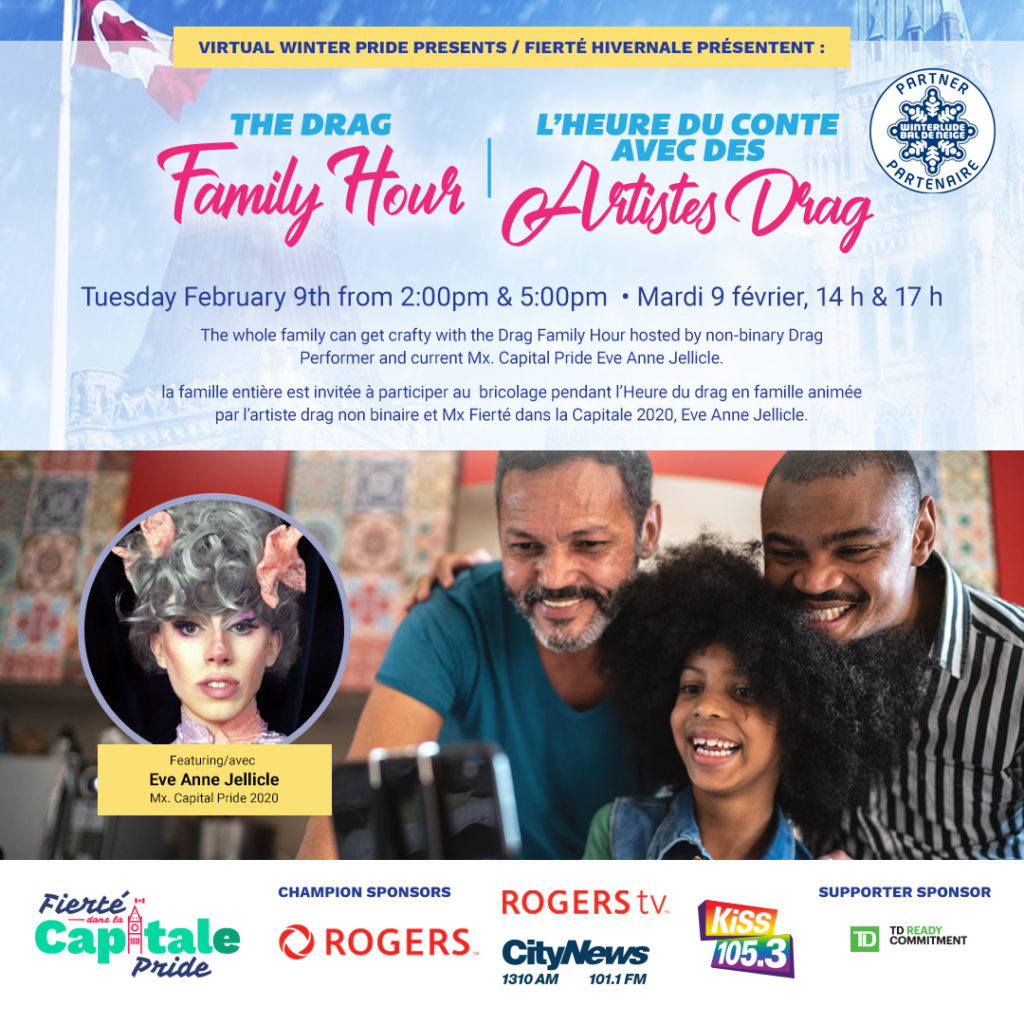 The Drag Family Hour
Tuesday February 9th, 2021 2:00 PM and 5:00 PM EST
The whole family can get crafty with the Drag Family Hour hosted by non-binary Drag Performer and current Mx. Capital Pride Eve Anne Jellicle.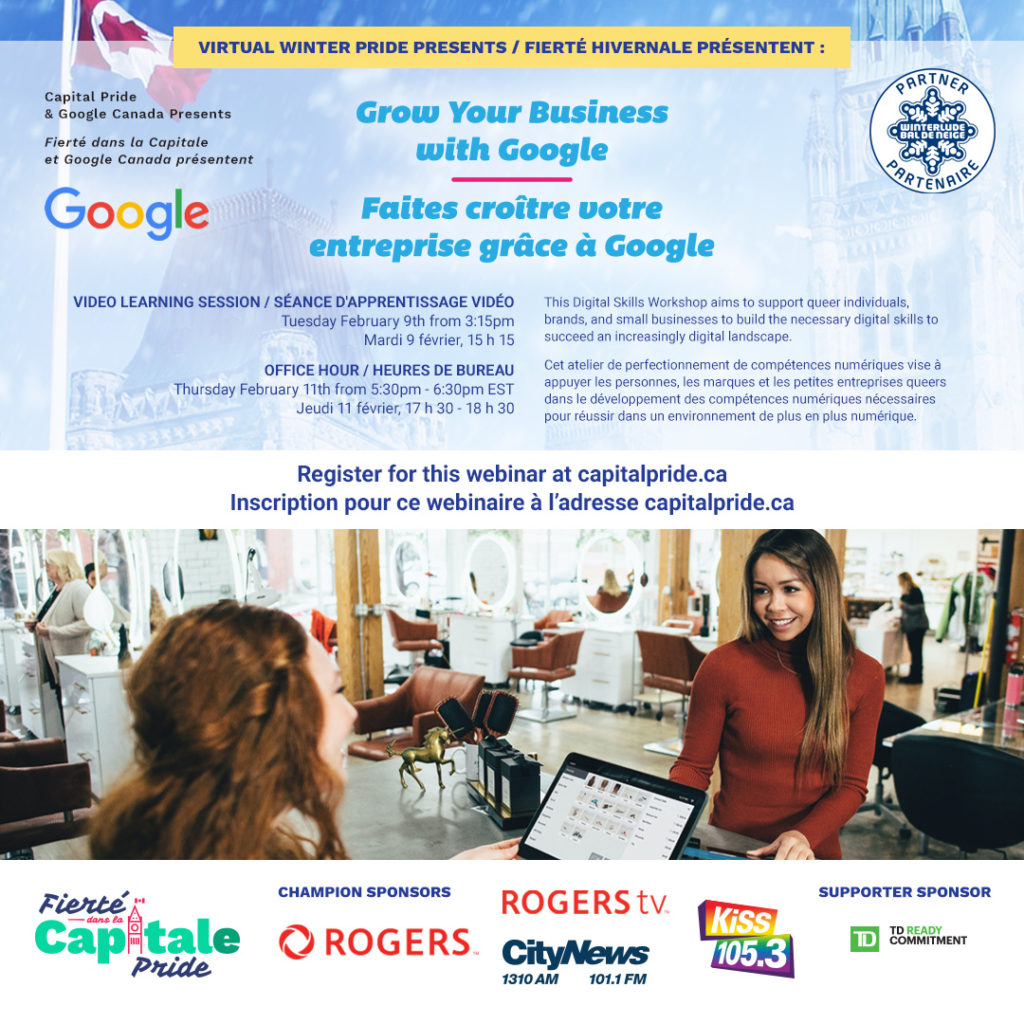 Grow Your Business with Google
Tuesday February 9th, 2021
3:15 PM EST
Thursday February 11th 5:30 PM EST
Join us Tuesday February 9th and Thursday February 11th at during Winter Pride week as we collaborate with Google Canada to present " Grow your business with Google". This Digital Skills Workshop aims to support queer individuals, brands, and small businesses to build the necessary digital skills to succeed an increasingly digital landscape.
Google Canada will also be providing office hours for you to ask live questions and seek direct guidance from Google employees on how you can grow your business with Google Tools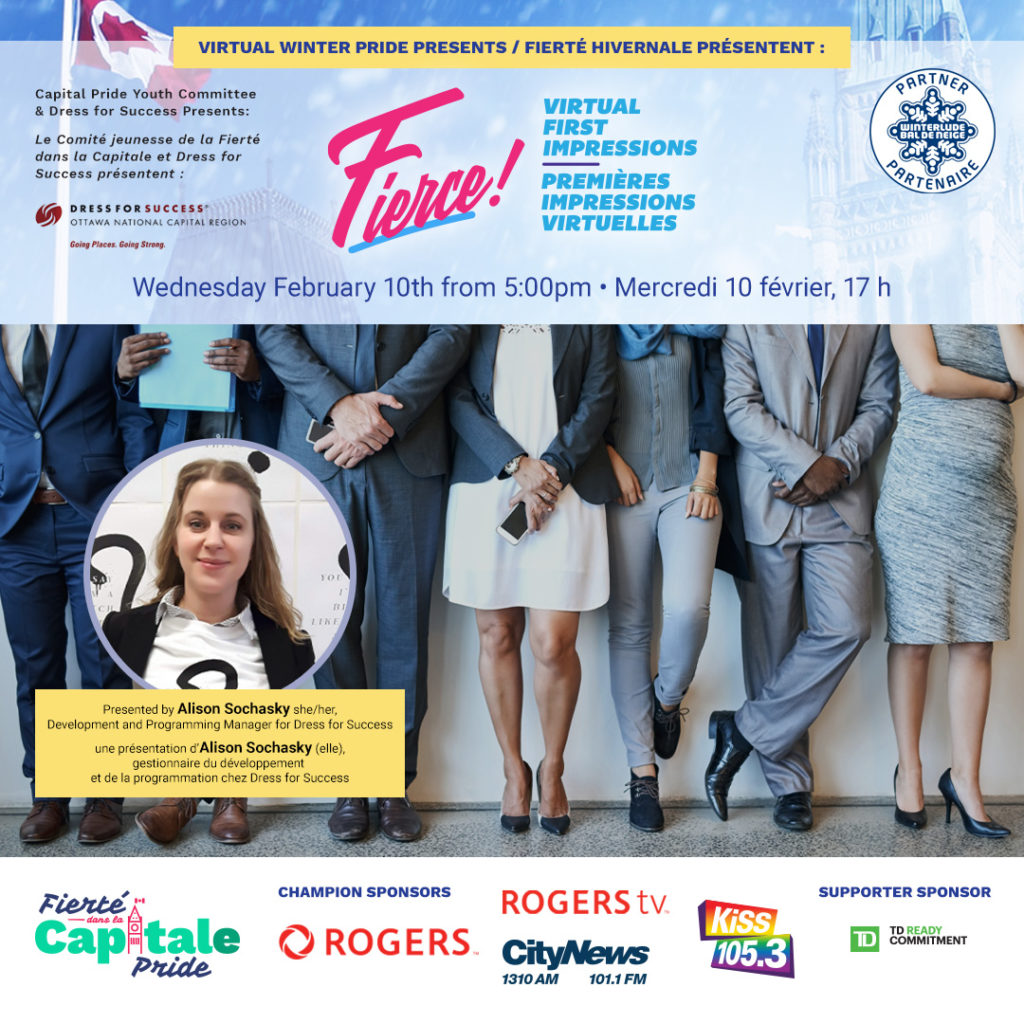 Capital Pride Youth Committee & Dress for Success Presents: FIERCE! "Virtual First Impressions" with Alison Sochasky Development and Programming Manager for Dress for Success
Wednesday February 10th, 2021 5:00 PM EST
The Capital Pride Youth Committee partnered with Dress for Success to present FIERCE! Virtual First Impressions webinar. Tune in and learn how to stand out in a crowd, tips and tricks on how to find a job, and how to get noticed in a virtual world.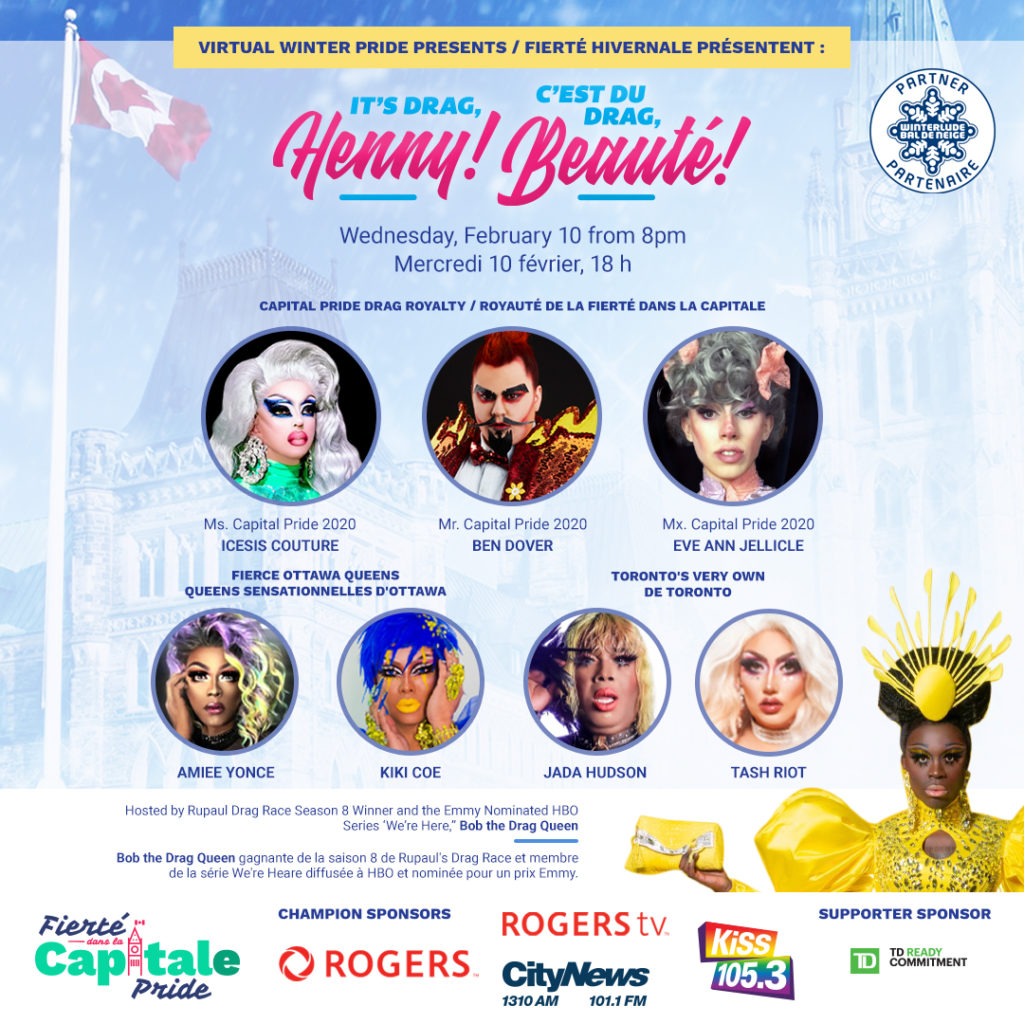 It's Drag Henny!-Winter Edition hosted by Rupaul Drag Race Season 8 Winner- Bob the Drag Queen
Wednesday February 10th, 2021 8:00 PM
Start your engines racers, because WinterPride 2021 is bringing back our signature event, It's Drag Henny hosted virtually by Bob The Drag Queen, Winner of RuPaul Drag Race Season 8 and Emmy nominated for her role on the HBO hit series We're Here. This virtual show, featuring Ottawa's drag royalty, will leave you gagged, gooped and asking for more.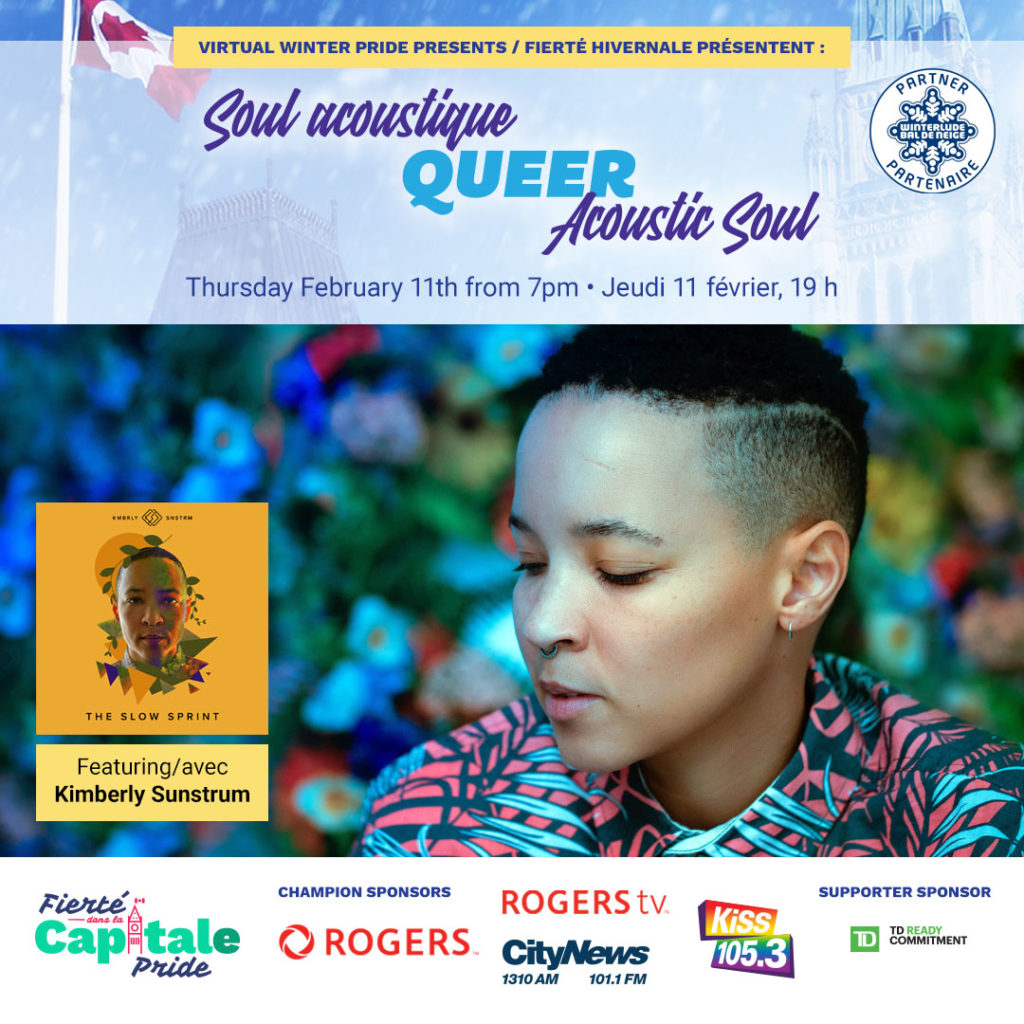 Queer Acoustic Soul featuring Kimberly Sunstrum
Thursday February 11th, 2021 7:00 PM EST
The week will also include a performance by Ottawa's very own Kimberly Sunstrum. Already well-known in the local music scene, Kimberly's unique blend of classic R&B, old-time country and 70's Motown power bops is sure to soothe the soul.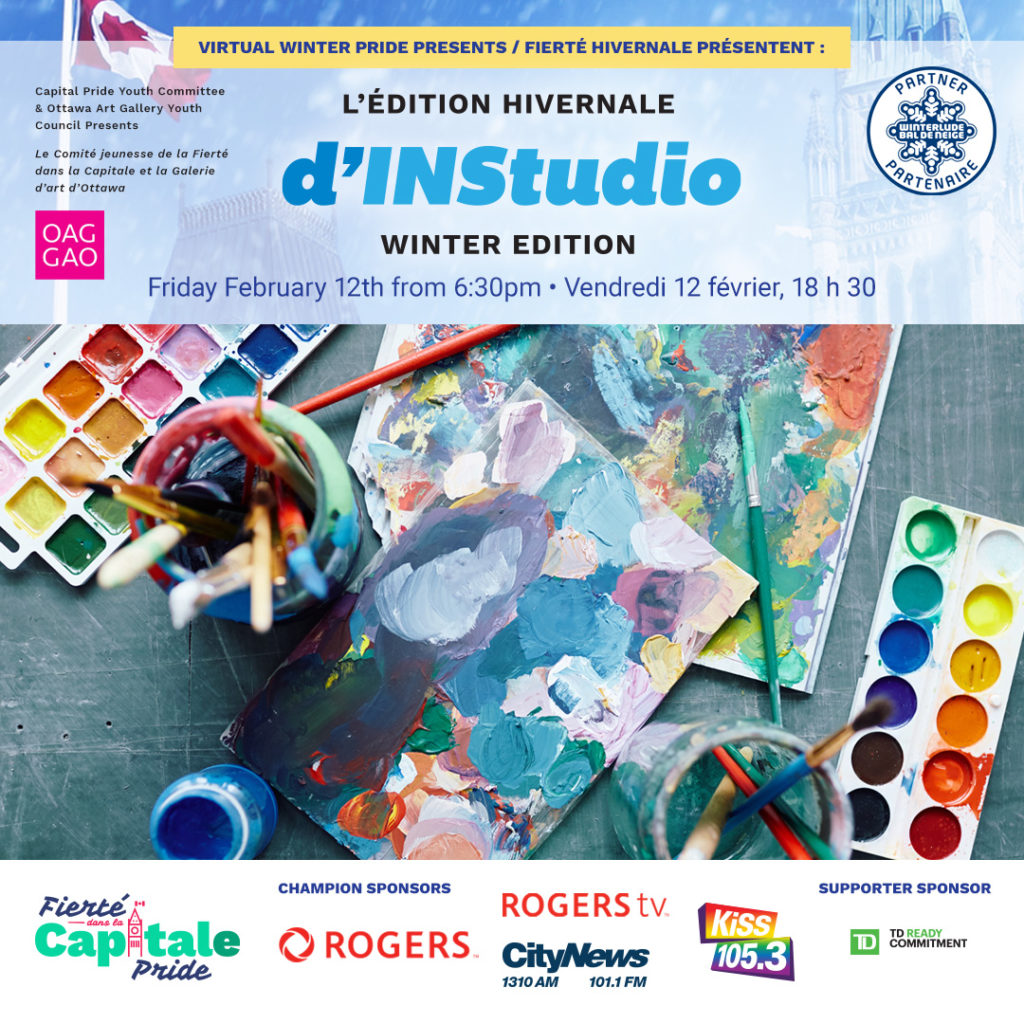 Capital Pride Youth Committee & Ottawa Art Gallery Youth Council Presents:INStudio Winter Edition
Friday February 12th, 2021 6:30 PM EST
Youth can also participate in INStudio Winter Edition! a youth-focused art show featuring local 2SLGBTQ+ artists brought to you by the Capital Pride Youth Committee & the Ottawa Art Gallery Youth Council.