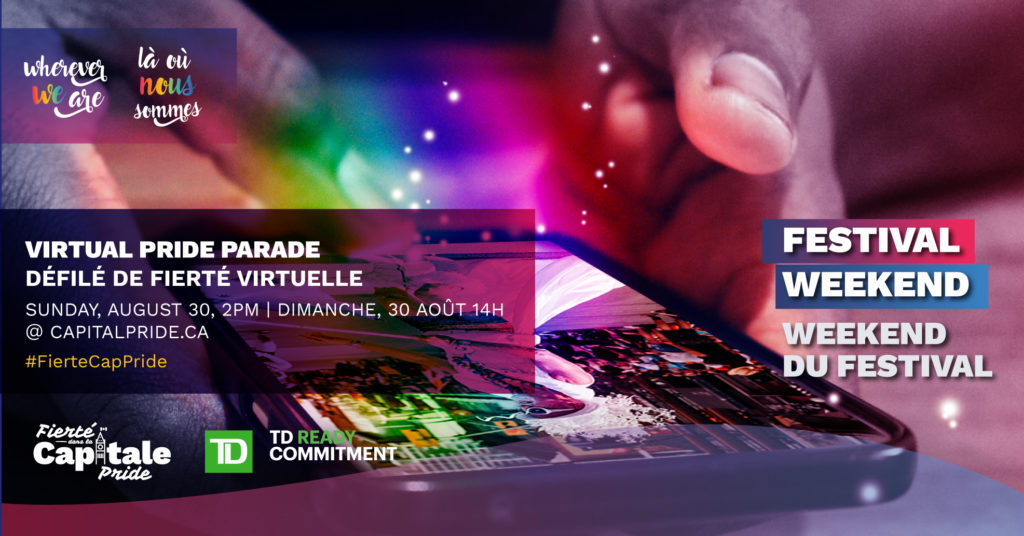 Thank you for your interest in registering to be a part of this year's Virtual Parade on August 30, 2020 — we are looking forward to celebrating with you! Before you register for the Virtual Parade, please read the following information carefully and then proceed to our Virtual Parade registration form to reserve your spot. Due to COVID-19 we are planning to do an online montage video instead of our usual in person parade in order to accommodate the physical social distancing guidelines.
Parade Registration Deadline: Wednesday, August 5th 2020
Virtual Parade Fees
| Organization Type | Cost |
| --- | --- |
| Community Groups & Non-Profit Organizations | Free |
| Union, political groups, government agency or educational institution | $100.00 |
| Small business (1-2 outlets within Canada) | $150.00 |
| Large business (3+ outlets within Canada) | $200.00 |
Registrations must be completed by August 5, 2020 in order to guarantee a spot. Receipts are available upon request. Fees are in Canadian dollars and do not include HST. Cheques returned NSF will incur a charge to be invoiced at $30. Registration is not considered complete until payment is received.
Payment Options
If you choose to pay by credit card, please select the PayPal option. We also accept cash and cheque payments. If you select this option payment will be due upon receipt of the invoice. Cheques are to be made payable to Capital Pride and can be hand delivered or sent in the mail to:
Capital Pride
Attn: Finance Committee
403 Bank Street, Ottawa (Ontario), K2P 1Y6
Email: [email protected]
Cash Payments are to be hand delivered to the above address between 11am and 5pm. Please call ahead at (613) 680-3033.
All complete video submissions must be submitted by August 5th, 2020. All fees must be paid by August 5th, 2020.
If you have any questions please email: [email protected]
Virtual Pride Parade Entry Information
For full list of details about how to register to be part of the parade, please read the following document then fill out the form below. Upon reading the entry information and filling out the form, you will be contacted within the next 7 business days with our PayPal payment information and the link to send in your final video submission.