Capital Pride invites you to join us at Lansdowne Park for a day-long event featuring a line-up of artists, DJs, drag performers and bands plus beer garden and food trucks.

Sunday, August 29, 20201
The Great Lawn, Lansdowne Park
3:00pm – 10:00pm
The Line-Up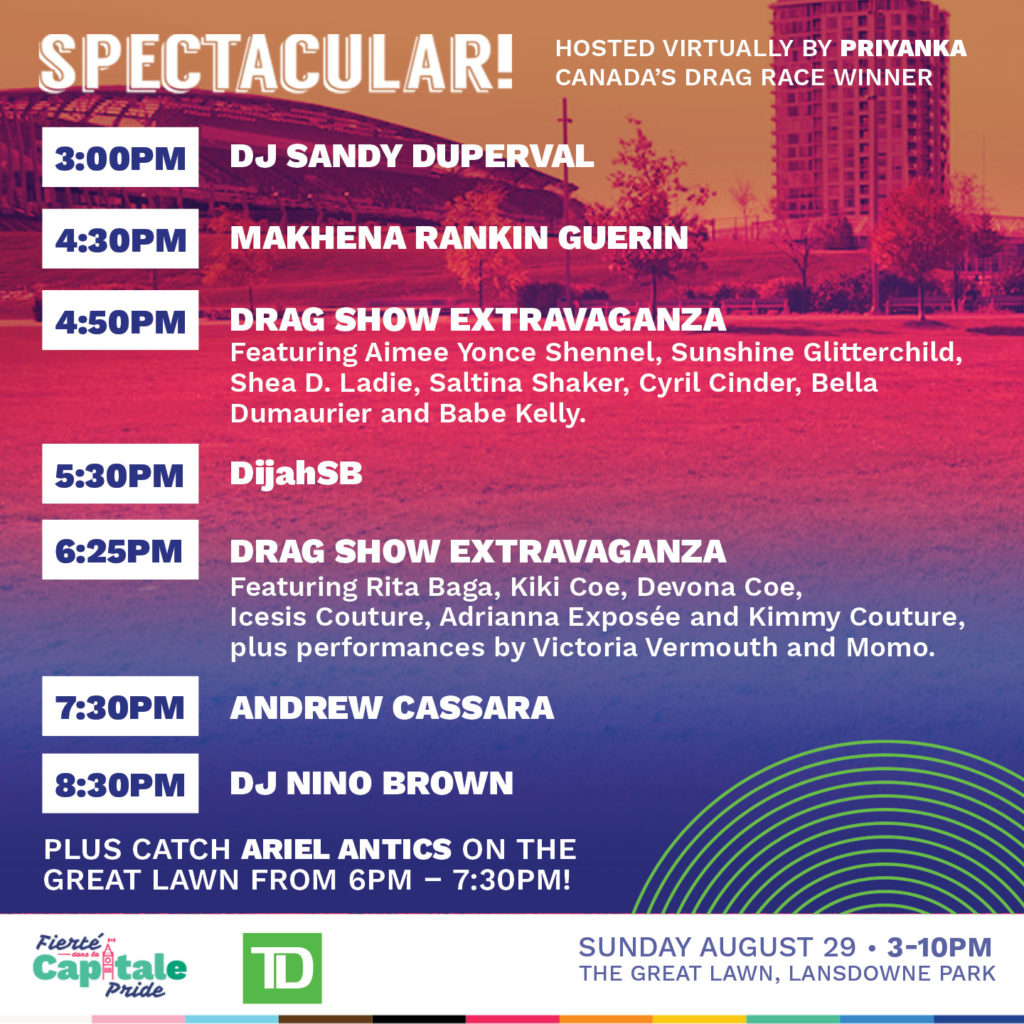 In line with current public health guidance, capacity for the event will be limited and guests will be encouraged to enjoy the green space and practice social distancing. Masks will be required in high traffic areas and hand sanitizer and handwashing stations will be available throughout the festival.
Interested in volunteering? We are looking for a limited number of volunteers to assist throughout the day. Click here for more information.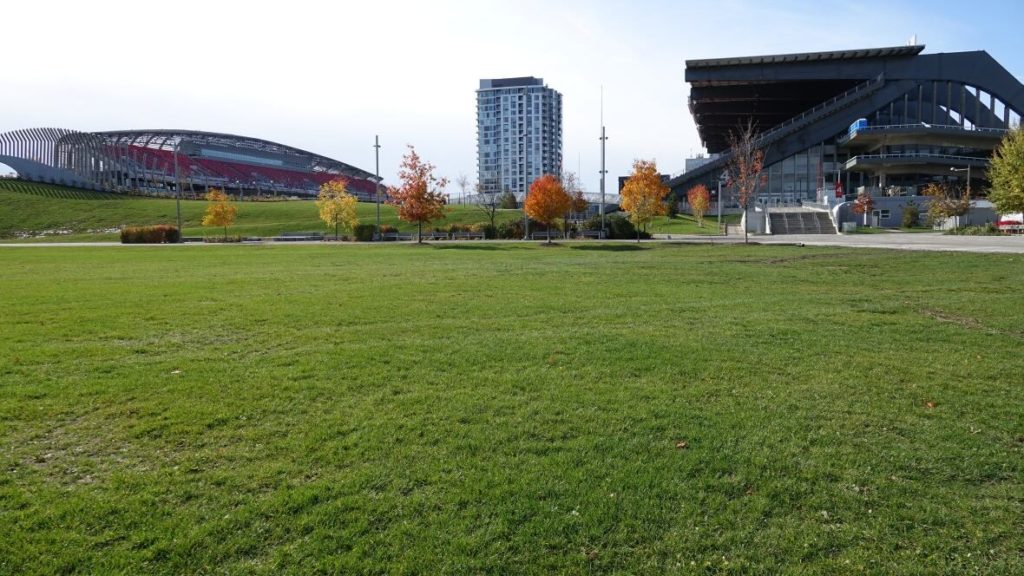 Please note the following event guidelines for attendees:
Spectacular takes place rain or shine.
Blankets are permitted on site.
No drinks or alcoholic beverages from outside are allowed.
Water stations will be available on site. Empty reasonable water bottles are permitted.
Beverage sales will be credit and debit only.
Washroom facilities will be available at the festival site.
Parking at Lansdowne Park is extremely limited. With other events also taking place, we anticipate the parking lots to reach capacity. You are encouraged to take public transit, bike or use alternative ways to get to the Festival.
Please note the following COVID guidelines for attendees:
Capacity will be limited to allow for social distancing throughout the festival side.
Masks must be worn in all high traffic service areas including at the bar, food trucks, main entrance, and washroom areas.
Groups are encouraged to practice social distancing, particularly on the lawn around the stage.
Hand sanitizer and washing facilities will be available.
All attendees will be required to complete an contact tracing and COVID screening questionnaire when they arrive at the event.
Social distancing is encouraged.
Cleaning services will be increased throughout the festival site, particularly for frequently touched surfaces.
Volunteers and staff will wear masks throughout the festival site.
In line with public health guidance, please postpone your visit if:
You have any of the following new or worsening symptoms: fever or chills; difficulty breathing or shortness of breath; or, runny nose (unrelated to seasonal allergies); not feeling well, headache, unexplained tiredness and muscle pain.
In the last 14 days you have had close physical contact with a person who: was sick with a respiratory illness; has returned from travel outside of Canada; or had a confirmed or probable case of COVID-19.
In the last 14 days you have travelled outside of Canada.
In the event any of these circumstances apply, please self-isolate and visit OttawaPublicHealth.ca/COVIDCentre for more information about getting tested
Accessibility at Lansdowne Park
Site Access: Spectacular takes place on the Great Lawn which is grass. Guests may bring picnic blankets and lawn chairs and a number of picnic tables will be located throughout the site.  
Transportation: Lansdowne Park has a number of reserved parking spots for wheelchair users. Parking cannot be reserved and attendees are also encouraged to take public transport, including Paratranspo which has dedicated drop-off spots at Lansdowne. More info about parking and transport is available here. 
Pathways: pathways throughout Lansdowne Park and leading to the site are wheelchair accessible. 
Washroom Facilities: 2 wheelchair accessible portable washrooms will be available on site.
Food and Drink: food trucks will be available online. A bar will be selling alcoholic and non-alcoholic options and a public water truck will be available to fill reusable waterbottles.