Organizations and community groups within the 2SLGBTQ+ community are encouraged to showcase their business during our Community Market event during Pride Week! The community market entails a 3D virtual immersive tour at the (Ottawa Art Gallery) showcasing various organizations within the National Capital Region. This event will be launched on Sunday August 23rd.
If interested please contact [email protected] for more information.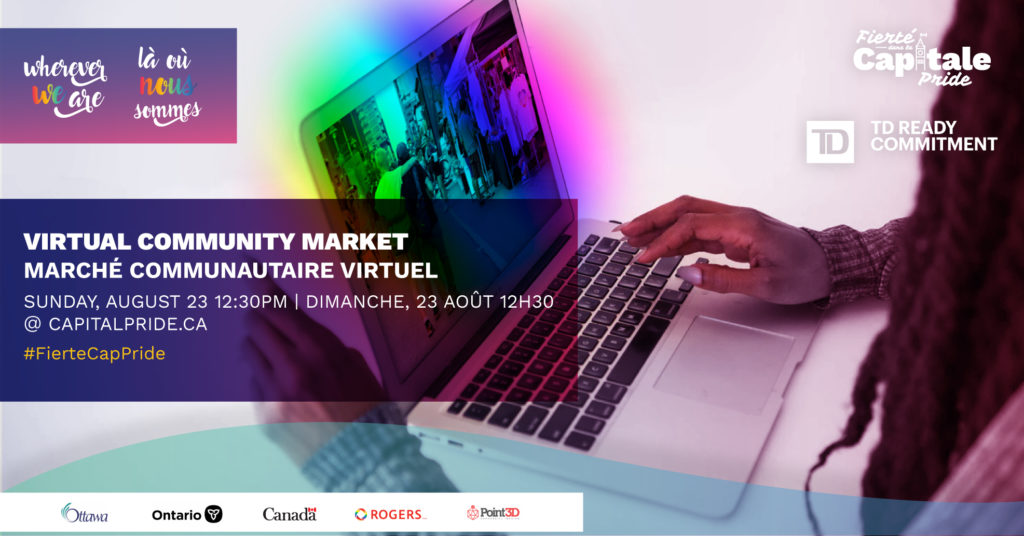 Virtual Pricing
| Organization Type | Cost |
| --- | --- |
| Community Groups, charities & non-profit organizations | Free |
| Craftsperson | $50.00 |
| Union, political groups, government agency or educational institution | $75.00 |
| Small business (1-2 outlets within Canada) | $100.00 |
| Large business (3+ outlets within Canada) | $125.00 |
Payment Options
If paying by credit card, please select the PayPal option. We also accept cash and cheque payments. If you select this option payment will be due upon receipt of the invoice. Cheques are payable to Capital Pride and can be hand-delivered or sent by mail to:
Capital Pride
Attn: Finance Committee
403 Bank Street, Ottawa (Ontario), K2P 1Y6
Email: [email protected]
Cash Payments are to be hand delivered to the above address between 11:00 am and 5:00 pm. Please call ahead at (613) 680-3033.
Additional Information
Registration must be completed by July 17th in order to guarantee your spot. Fees are in Canadian dollars and do not include HST. Cheques returned NSF will incur a charge of $30. Registration is not complete until payment is received.
Typical display spaces include a single 6-foot table. Please note that Capital Pride does not provide tents, weights, extension cords, or parking. This is an unserviced site (electricity and water is not available to vendors). Everything will be virtual this year due to COVID-19 but will be streamed on our website through an immersive 3D experience. Booths will be set up at the (National Arts Centre) and pre-filmed with the market being officially launched on Sunday August 23rd.
If you have any questions please email: [email protected].