Sunday August 22nd Virtual Events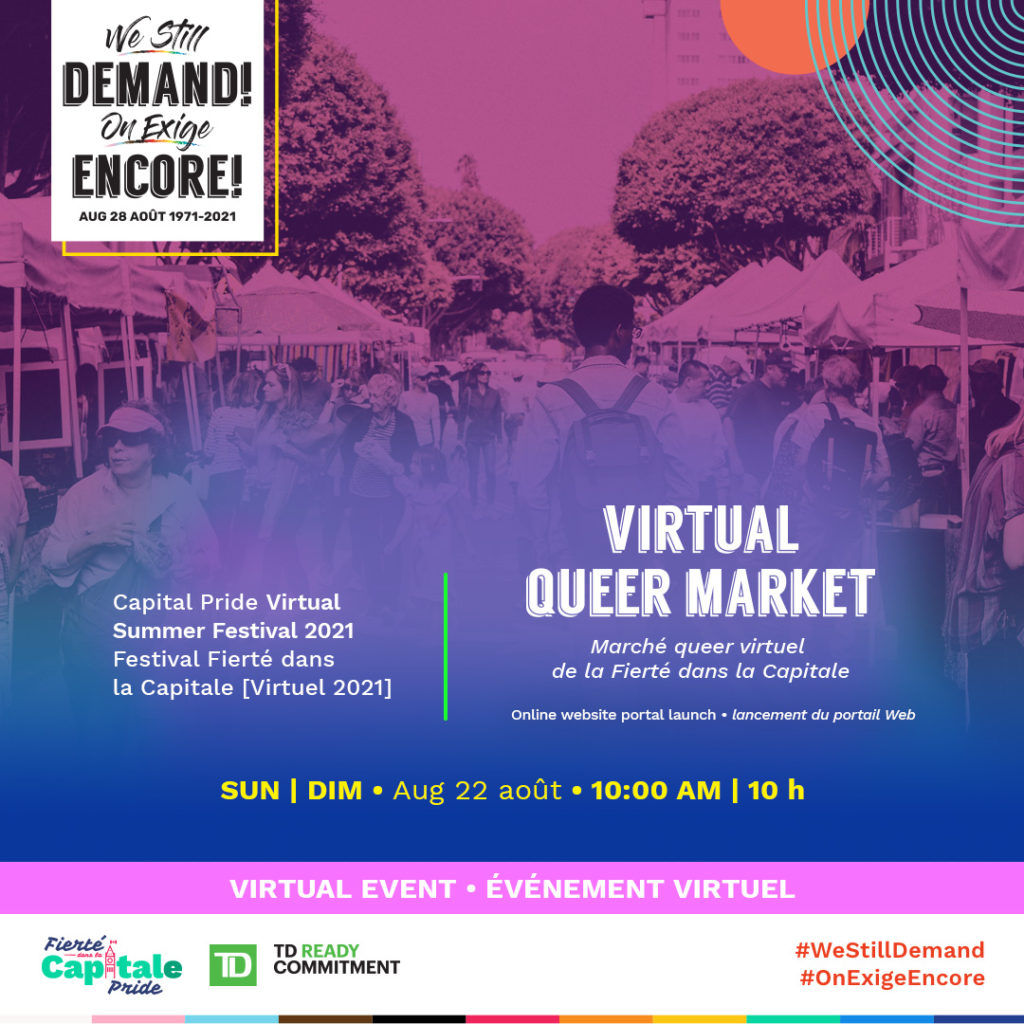 Virtual Queer Market (Online website portal launch
Capital Pride has curated a list of local & regional 2SLGBTQ+ artisans and community vendors that you have come to enjoy during our annual street festival. Scroll through to support our local community members. #WeStillDemand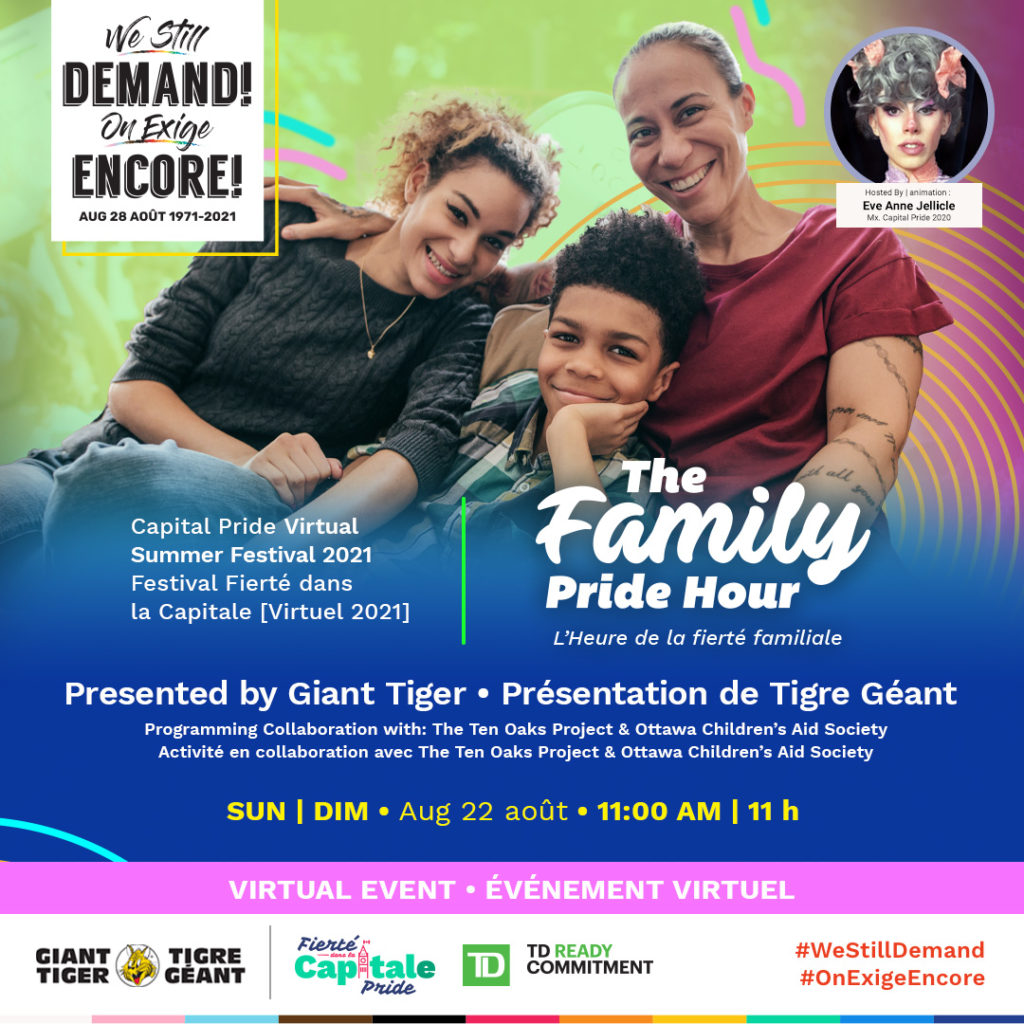 The Family Pride Hour Presented by Giant Tiger, Hosted by Eve Anne Jellicle (MX. Capital Pride 2020)
The Pride Family Hour is an inclusive celebration for the whole family to enjoy! Capital Pride values delivering programming for our children and their families that is welcoming and engaging for all! The Pride Family Hour will include fun crafts and activities tailored especially to those 12 and under. Come out help build our community of 2SLGBTQ+ parents, guardians, and children at Capital Pride. #WeStillDemand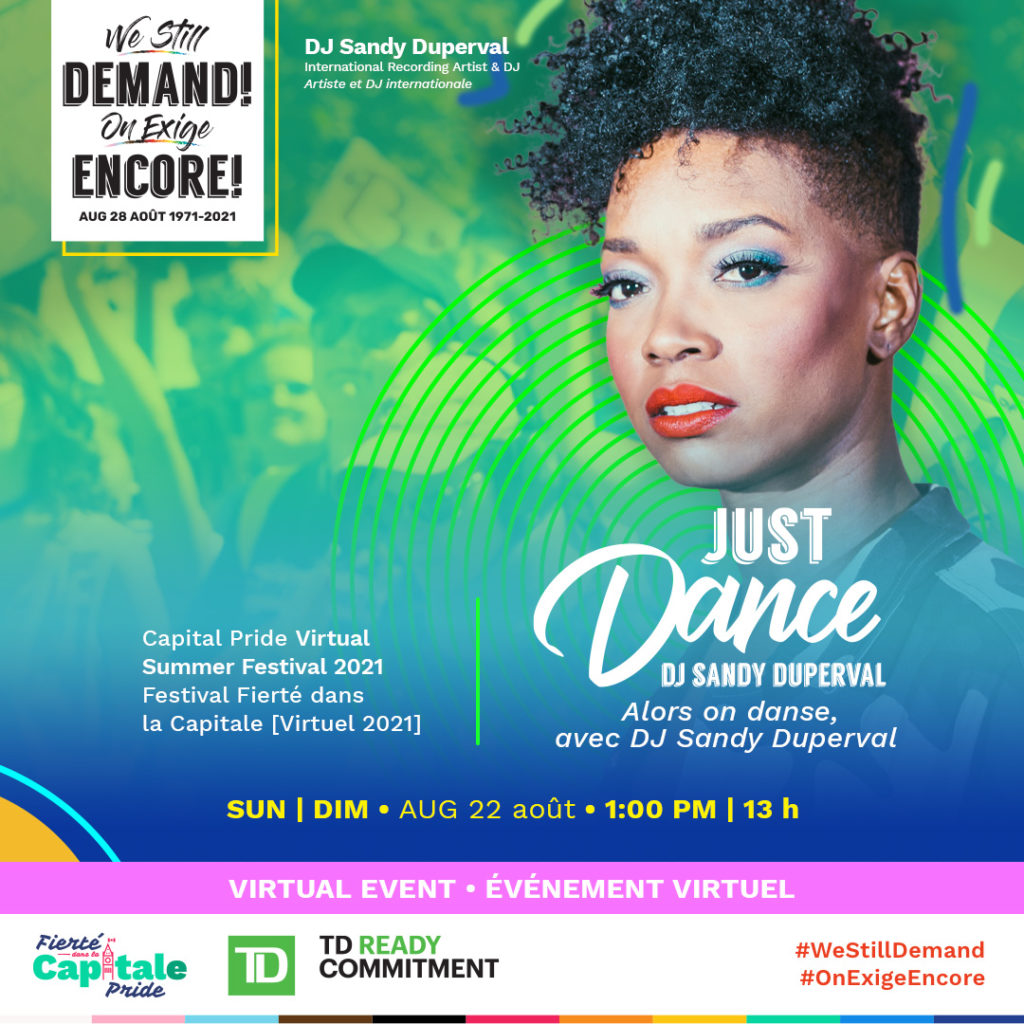 Just Dance: DJ Sandy Duperval
Come Join us for a fun afternoon of music by DJ Sandy Duperval. It's time to dance like nobody's watching and show your pride! #WeStillDemand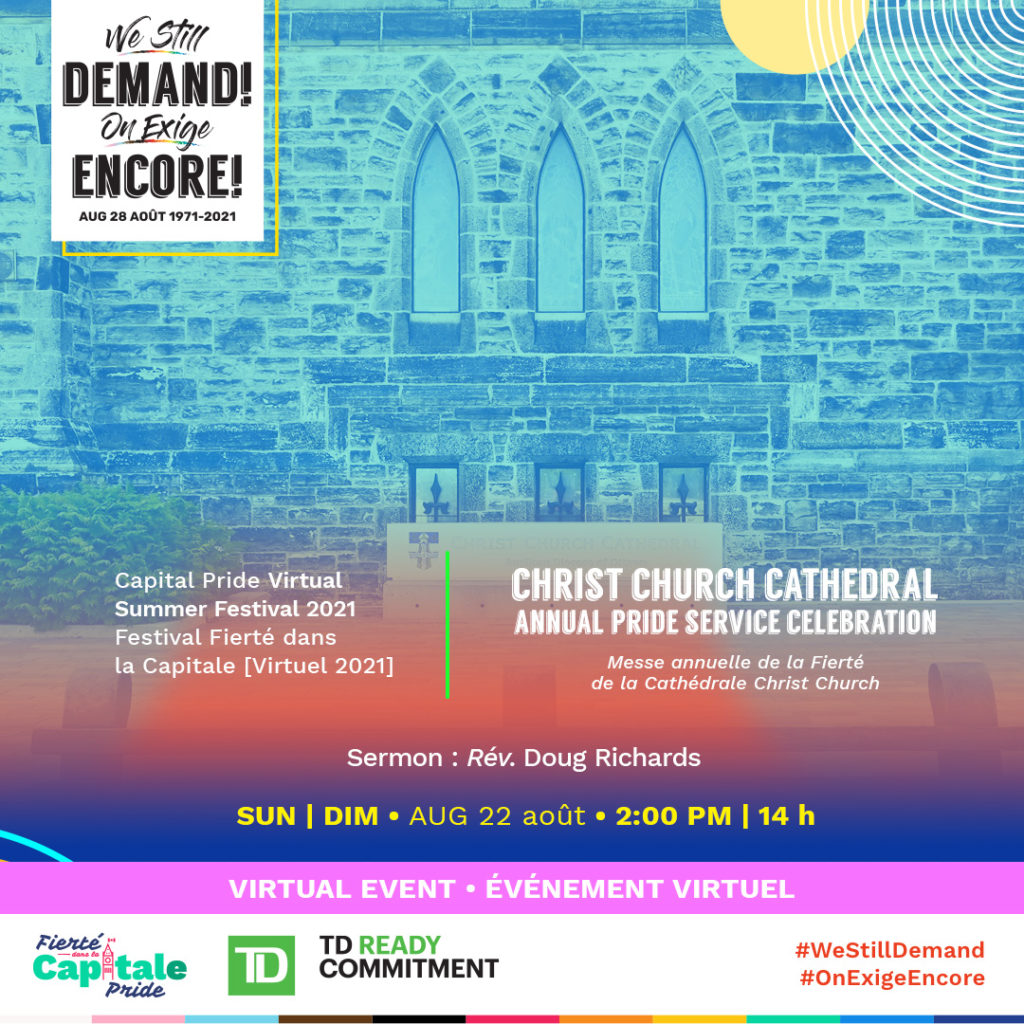 Christ Church Cathedral Annual Pride Service Celebration, Sermon by Rev. Doug Richards
Christ Church Cathedral will be hosting its Annual Pride Celebration Services (digital) on Facebook Live and Zoom and everyone is welcomed! Christ church is celebrating the radical inclusion of the LGBTQ+ community in the church not only during Pride month but every day of their calendar year! #WeStillDemand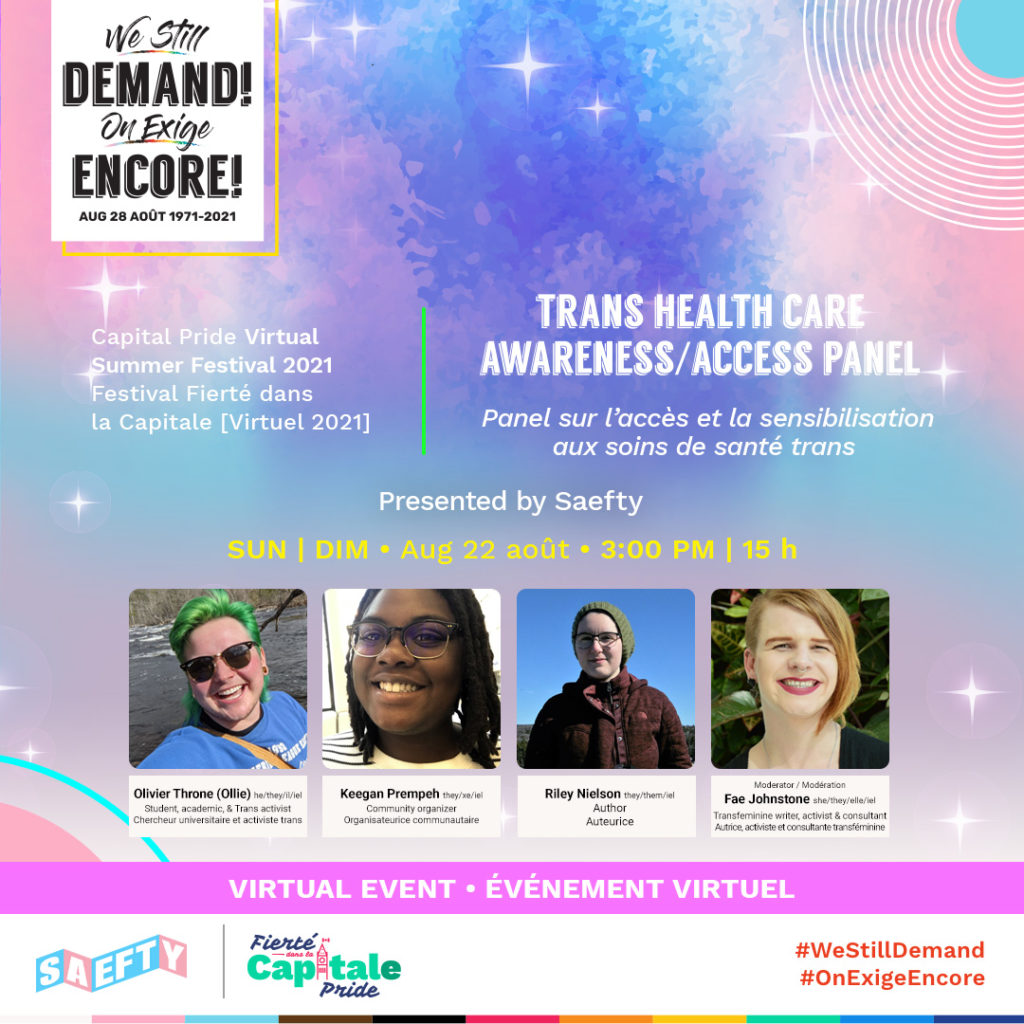 Trans Health Care Awareness/ Access Panel presented by SAEFTY
Transgender individuals are less likely to have health insurance than heterosexual or LGB individuals. transgender patients must disclose their transgender status to receive thorough and appropriate health care. Yet, fear of discrimination by healthcare providers once they do disclose their status may prevent individuals from seeking both urgent and preventative medical treatment. This insensitivity and hostility towards transgender patients are reinforced by inconsistent protection against discrimination in health care and insurance for transgender patients. #WeStillDemand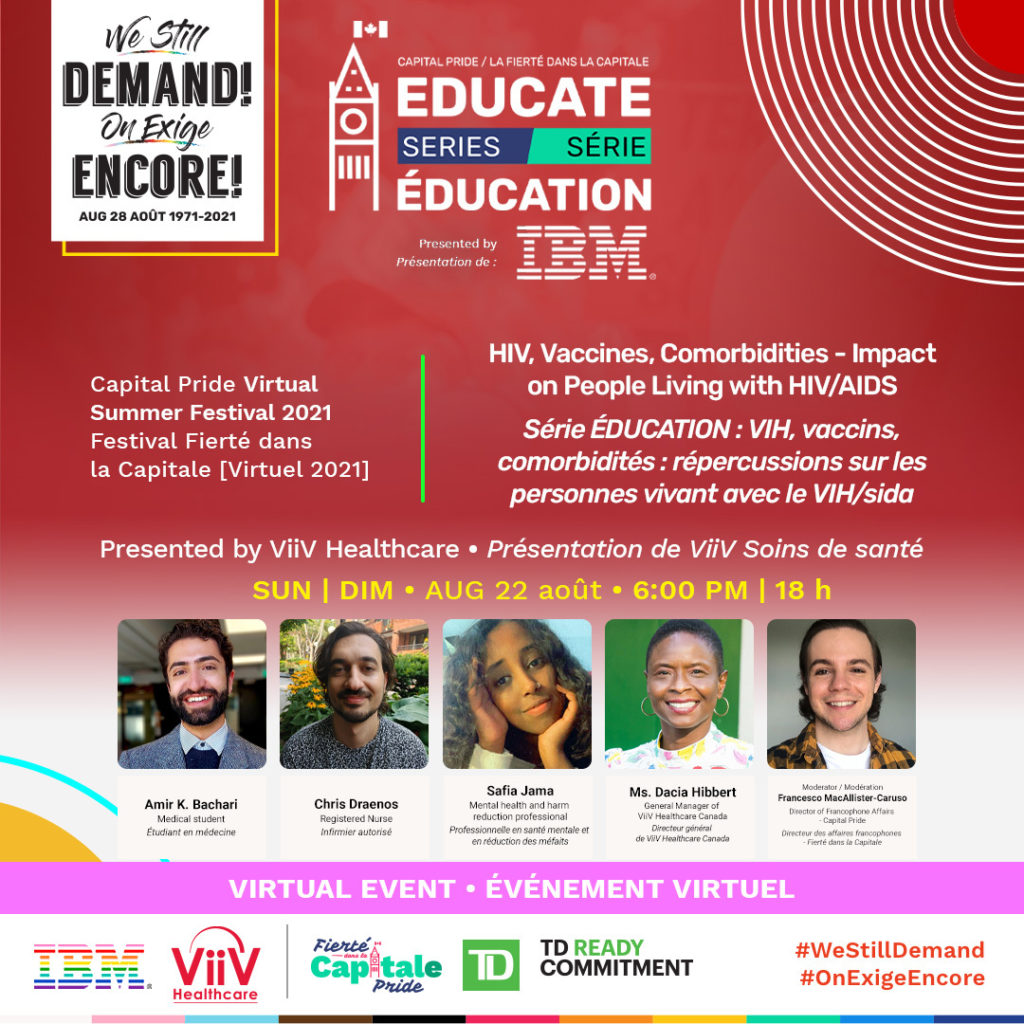 EDUCATE series HIV, Vaccines, Comorbidities- Impact on people Living with HIV/AIDS presented by ViiV Healthcare
The EDUCATE series is presented by IBM. Join us for a LIVE panel discussion and Q&A with expert panelists discussing the impact of vaccines on People living with HIV/AIDS #WeStillDemand
Monday August 23rd Virtual Events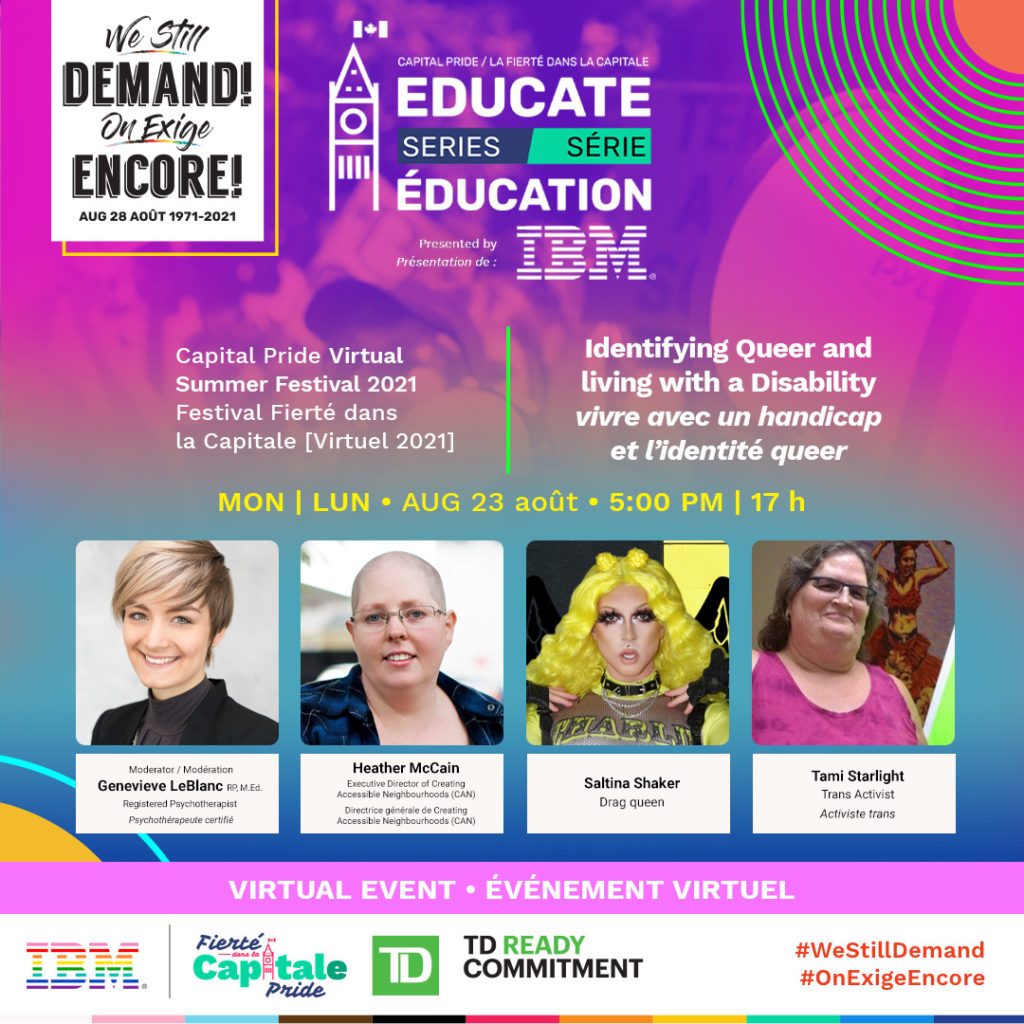 EDUCATE series presented by IBM: Identifying Queer and Living with a Disability
The EDUCATE series is presented by IBM. Join us for a LIVE panel discussion and Q&A with expert panelists discussing their lived experience of being Queer and living with disability.#WeStillDemand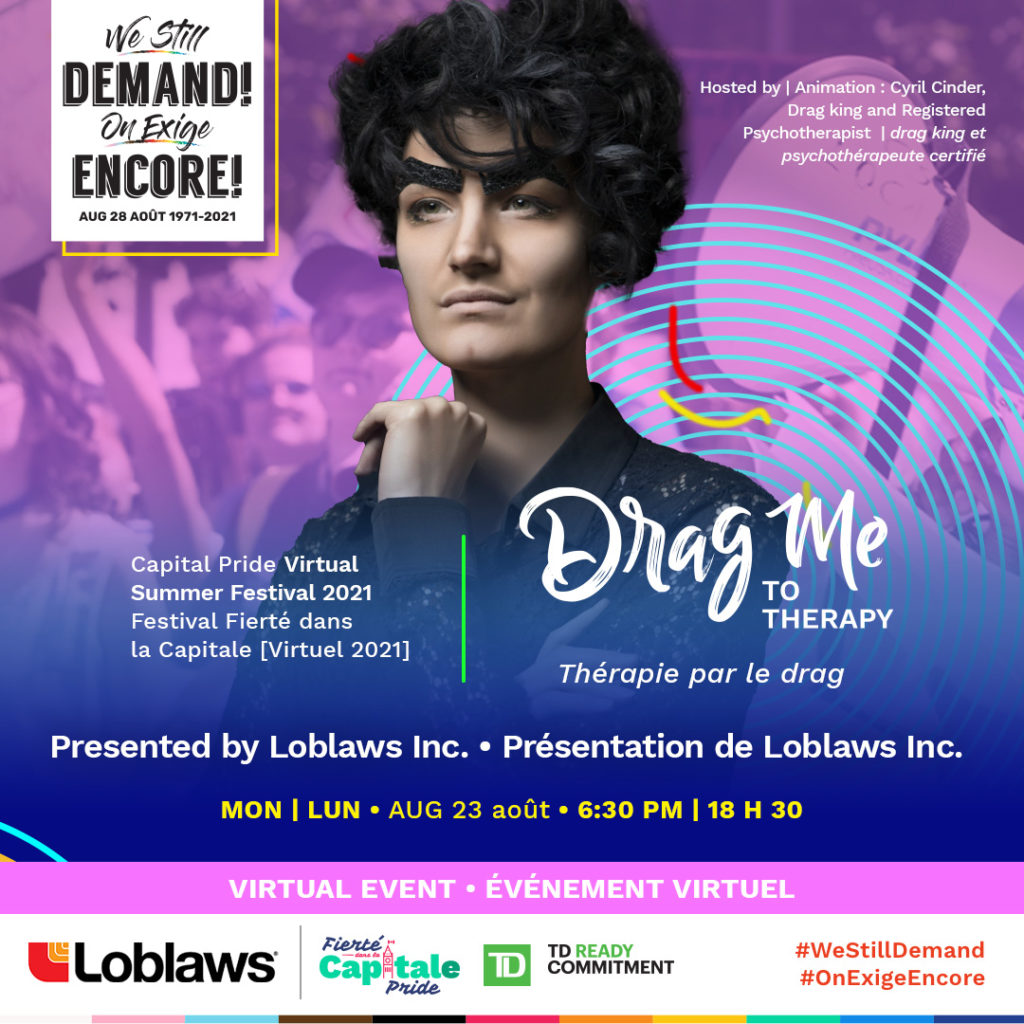 Drag Me to Therapy presented by Loblaws Inc.
Join Cyril Cinder, Drag king and Registered Psychotherapist, to learn more about mental health, how our brains work in a pandemic, where it's possible to receive support, and he will be answering all your questions LIVE. #WeStillDemand
Tuesday August 24th Virtual Events
YOUTH GOT PRIDE!
presented by Rogers Communications and Brought to you by the Capital Pride Youth Committee (CYPC)
Join the Capital Pride Youth Committee as they provide you with Pride programming by queer youth for queer youth. You don't want to miss this great line up. #WeStillDemand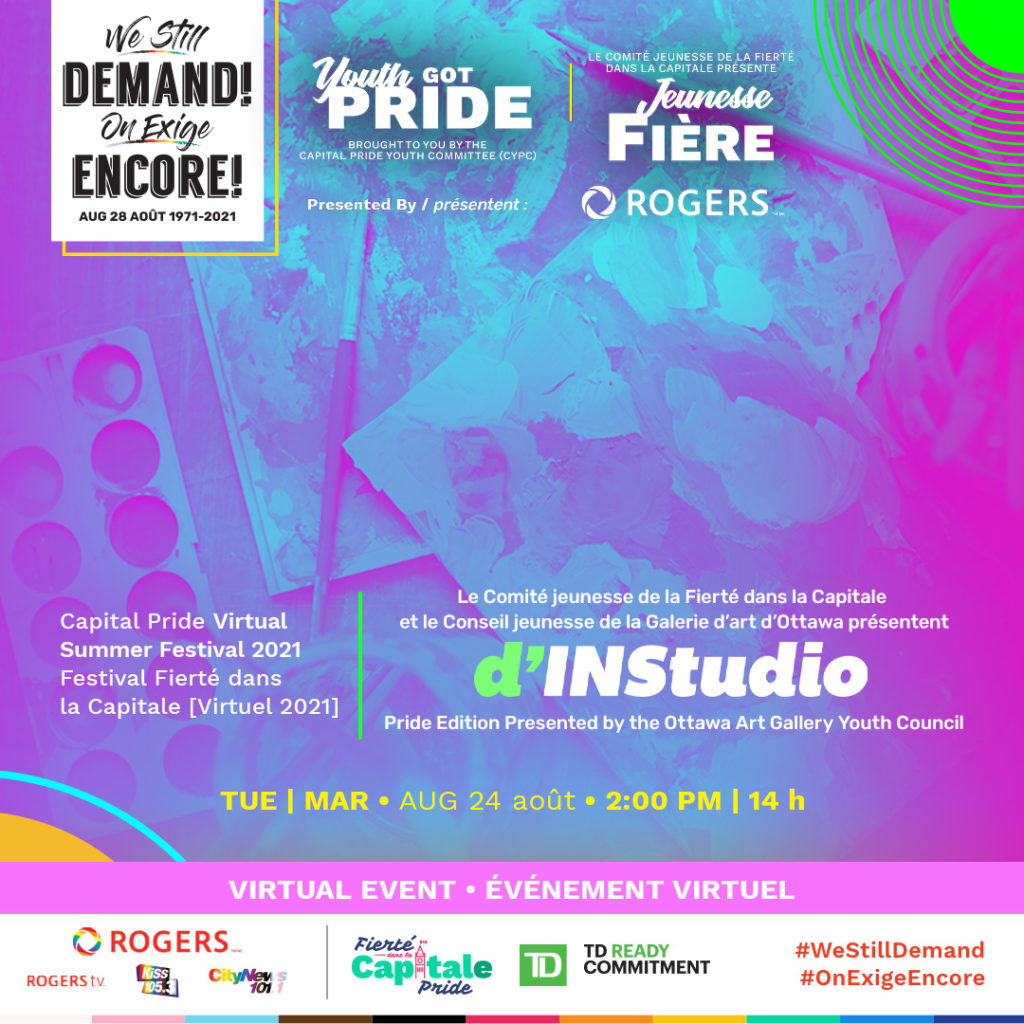 INStudio Pride Edition Presented by the Ottawa Art Gallery Youth Council
Capital Pride has curated a list of local & regional 2SLGBTQ+ artisans and community vendors that you hEnjoy a youth-focused art show featuring local 2SLGBTQ+ artists brought to you by the Capital Pride Youth Committee & the Ottawa Art Gallery Youth Council. #WeStillDemand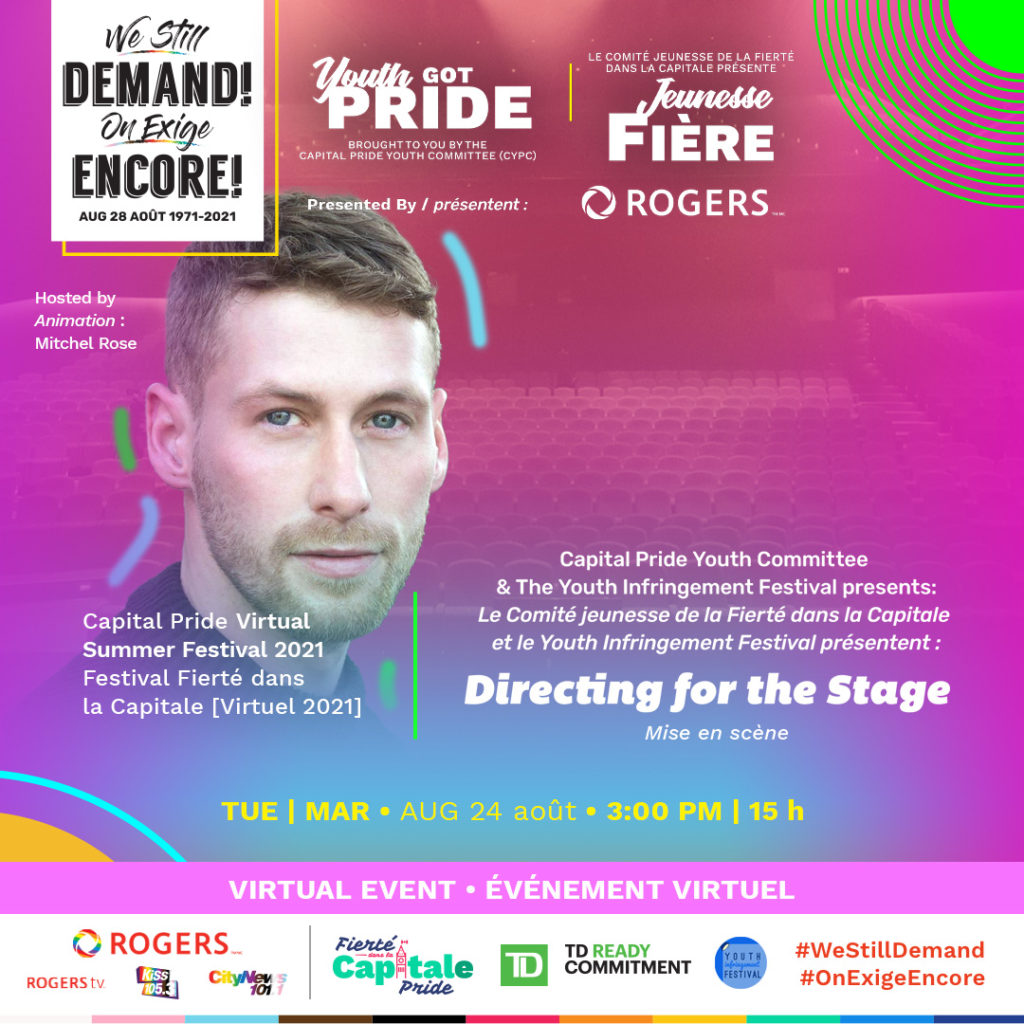 Capital Pride Youth Committee & The Youth Infringement Festival presents: Directing for the Stage
The CPYC and Youth Infringement Festival invites you to learn the basics of directing for the stage with Mitchel Rose! This 2SLGBTQ+ oriented introductory workshop will teach you about the basics of directing – techniques to develop a creative vision for a show, and practical methods of bringing that vision to life. The job of a director is dynamic. From creative interpretation, to catering to the needs and interests of 2SLGBTQ+ performers, to being an inclusive leader, this workshop will give you a broad foundation in what it means to direct for the stage.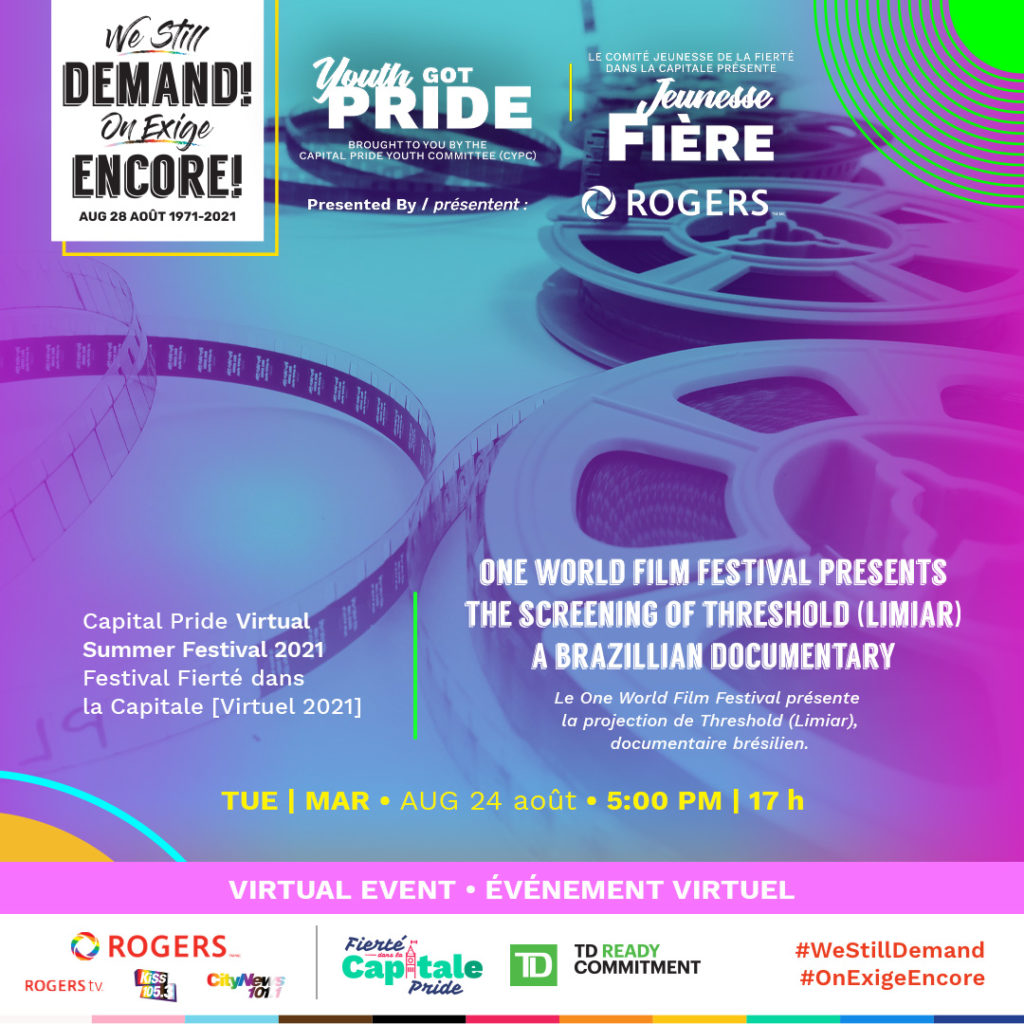 One World Film festival presents the screening of Threshold (Limiar) A Brazillian Documentary.
"Threshold" is an autobiographical documentary made by a mother who follows the gender transition of her adolescent son: between 2016 and 2019 she interviews him addressing the conflicts, certainties and uncertainties that pervade him in a deep search for his identity. At the same time, the mother, revealed through a first-person narration and by her voice behind the camera that talks to her son, also goes through a process of transformation required by the situation that life presents her with by breaking old paradigms, facing fears and dismantling prejudices.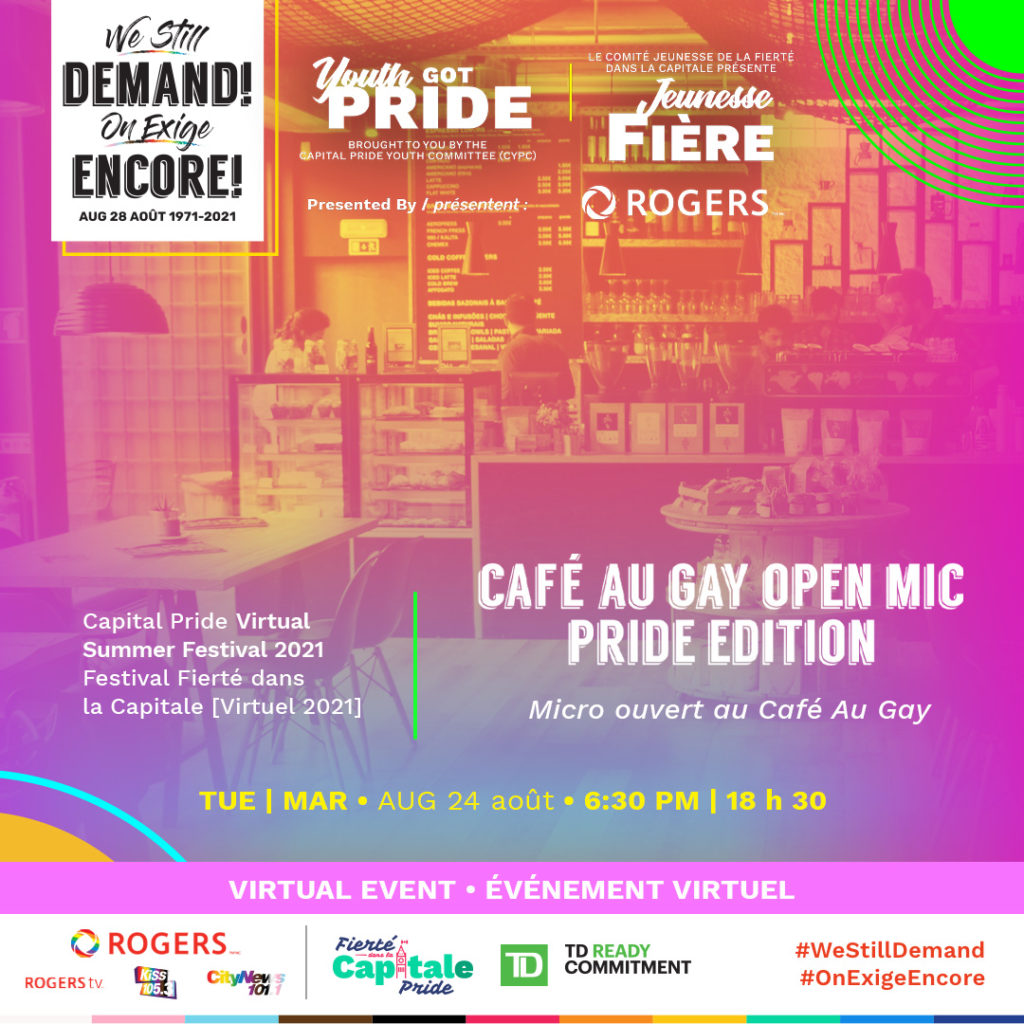 Café Au Gay Open Mic – Pride Edition
Join us at Cafe au Gay virtual coffeehouse as we are entertained by talented queer youth from all over the National Capital Region. Many Prizes to be won!
---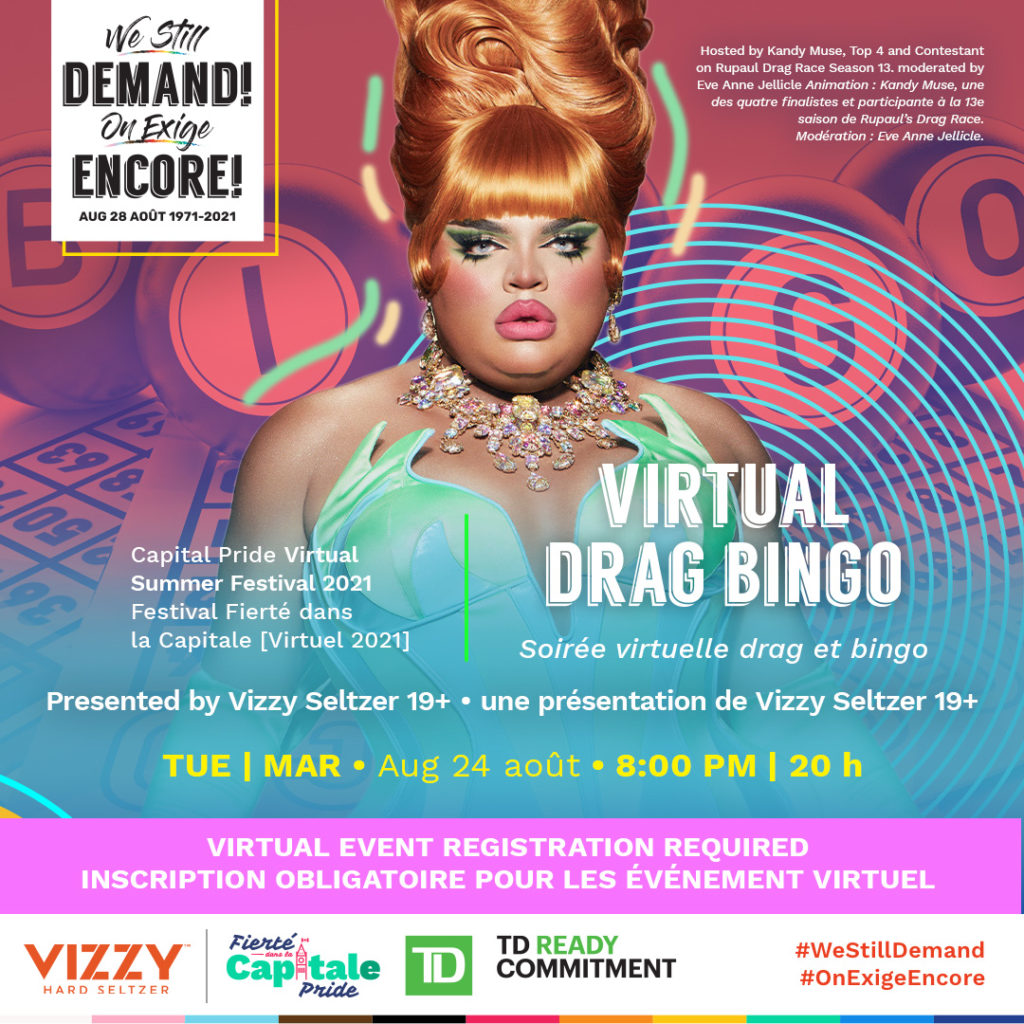 Virtual Drag Bingo presented by Vizzy Seltzer (19+) Event
This is not your regular type of bingo. Drag Bingo is an audience-participation Comedy Show with a comedic Drag Performer Calling Numbers and zingers and having a gay ole time. #WeStillDemand!
Hosted by Kandy Muse, Top 4 and Contestant on RuPaul Drag Race Season 13. Moderated by Eve Anne Jellicle. This is a 19+ event.
Wednesday August 25th Virtual Events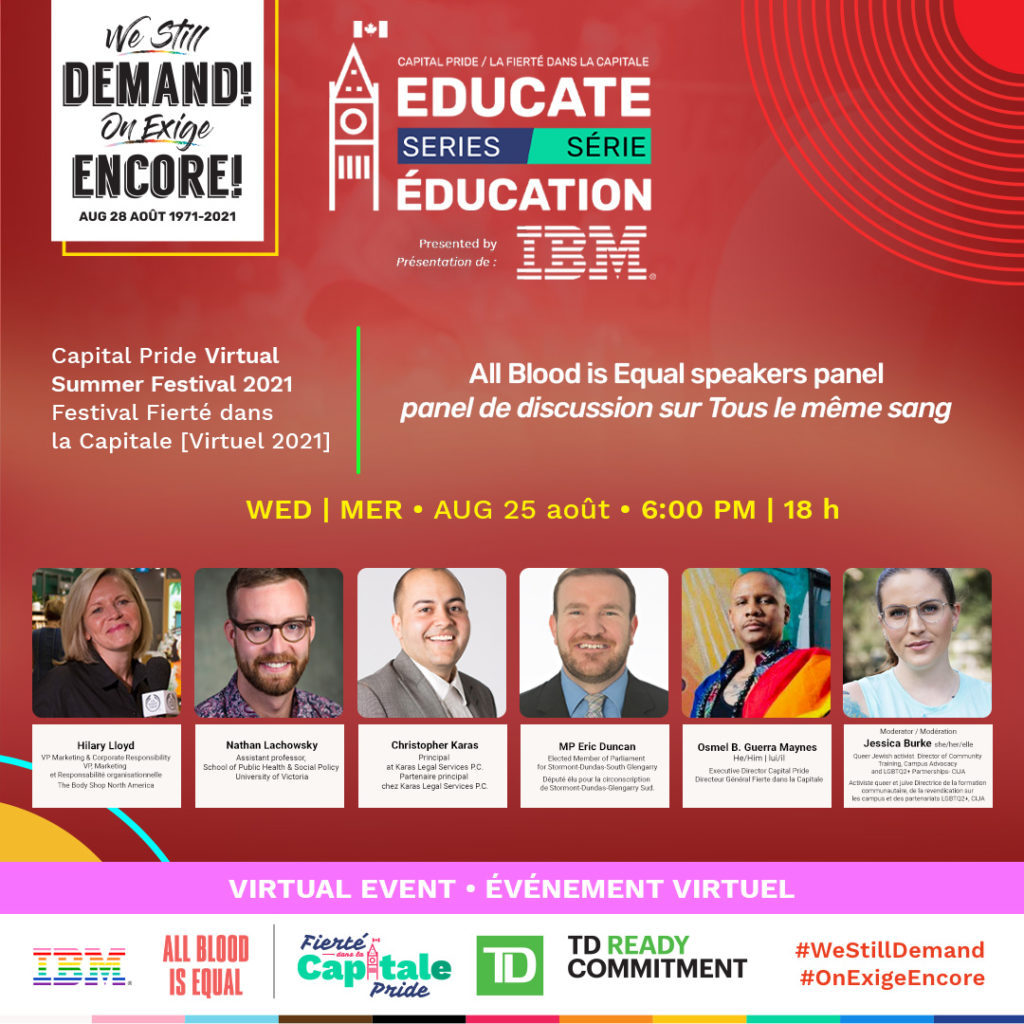 EDUCATE series: All Blood is Equal speakers panel
Join us for a LIVE panel discussion and Q&A with expert panelists discussing the All Blood is Equal campaign and how we can end the discrimination recieved by gay men, men who have sex with men and Trans women from donating blood. #WeStillDemand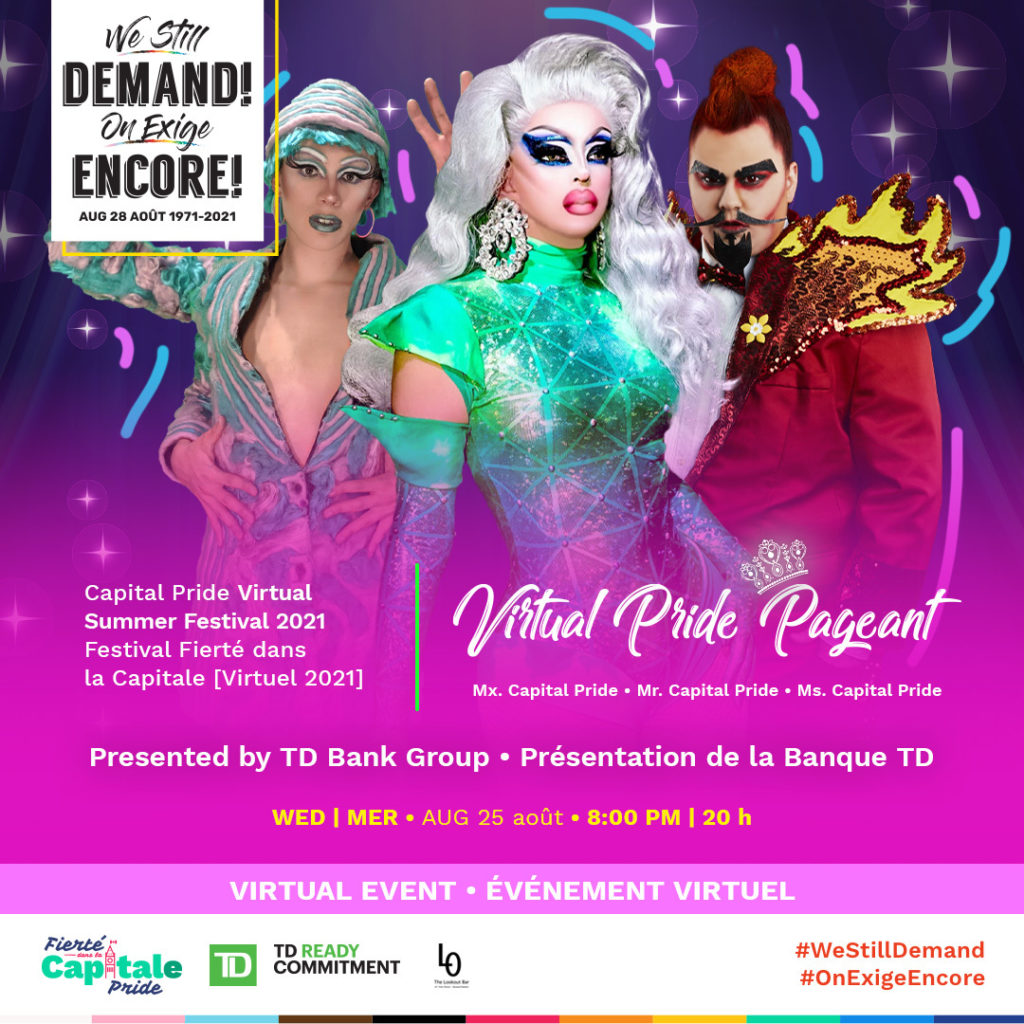 The Capital Pride Virtual Drag Pageant 2021 presented by TD Bank Group
The Best Drag performers in the National Capital Region compete to win the 2021 title of Mr., Ms. and Mx. Capital Pride! Want to watch with friends then join us at the LookOut Bar for the viewing Party and LIVE Crowning #WeStillDemand
Thursday August 26th Virtual Events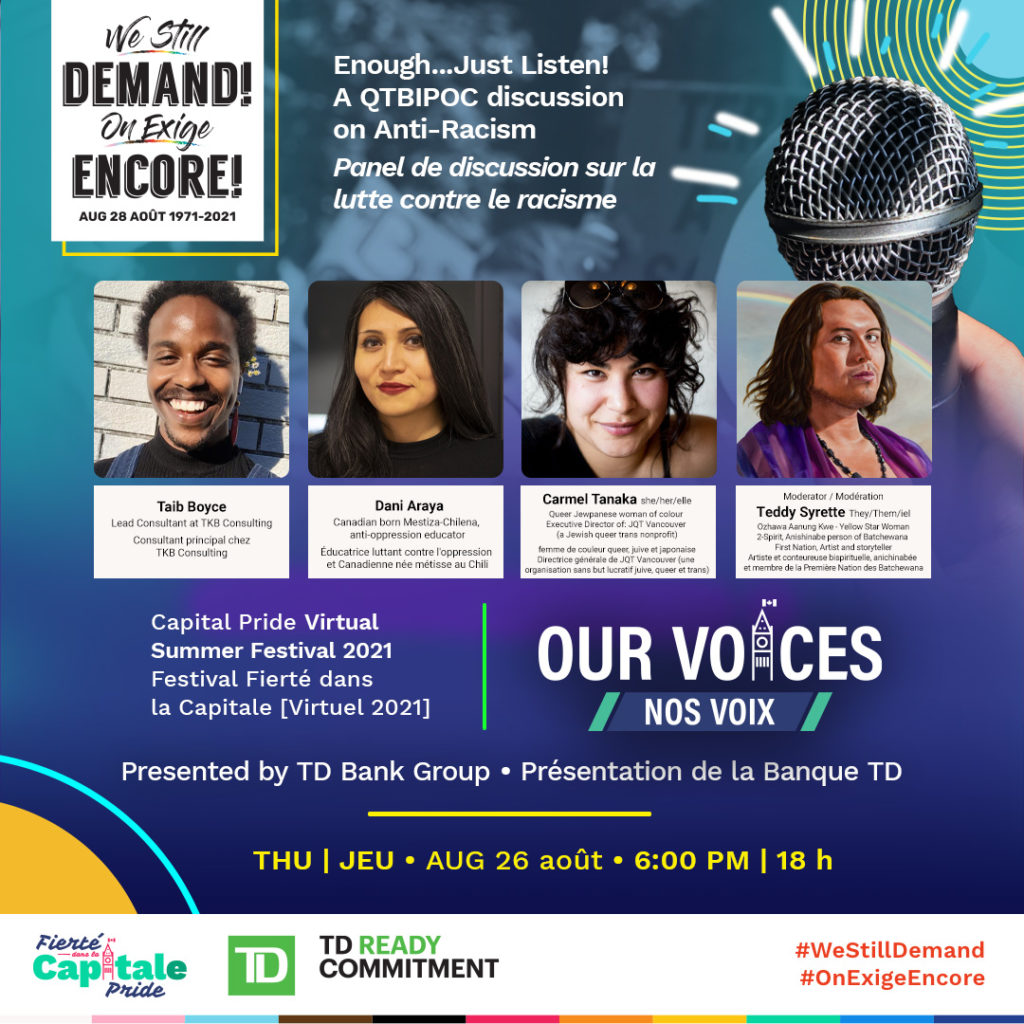 Our Voices: Enough…Just Listen! A QTBIPOC Discussion on Anti Racism presented by TD Bank Group
Join us for a LIVE panel discussion and Q&A with expert panelists discussing their lived experience of being Queer and batteling racism within the 2SLGBTQ+ community. #WeStillDemand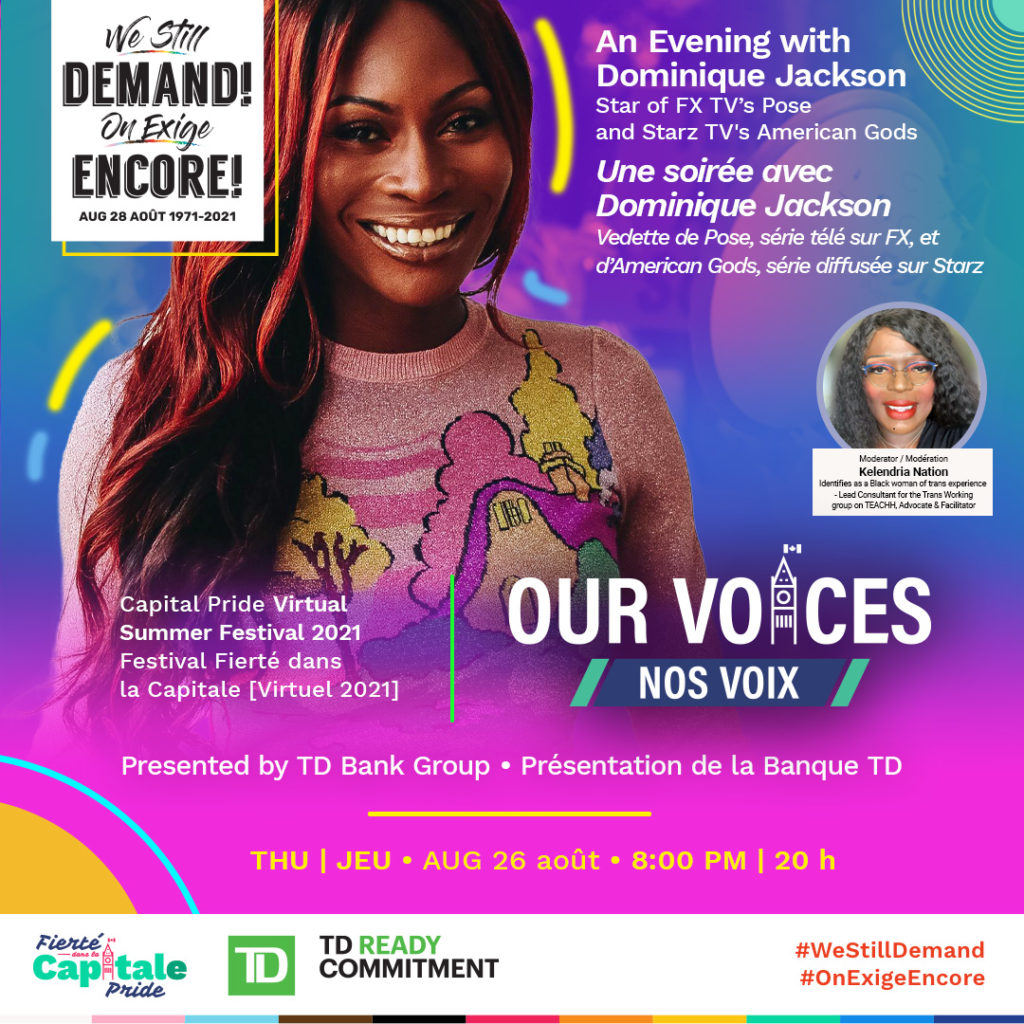 Our Voices: An Evening with Dominique Jackson- Star of FC TV's Pose and STARZ TV's American Gods, presented by TD Bank Group
We know Dominique as the star of Pose, but for Jackson, her character is more than just someone she plays in front of the cameras. She is a representation of what Jackson and many transgender women go through when they lose their families after coming out. Through her interactive conversation, she hopes to inform audiences and to bring awareness to the injustices within the transgender community, while inspiring all of us to become stronger activists and allies.#WeStillDemand
Friday August 27th Virtual Events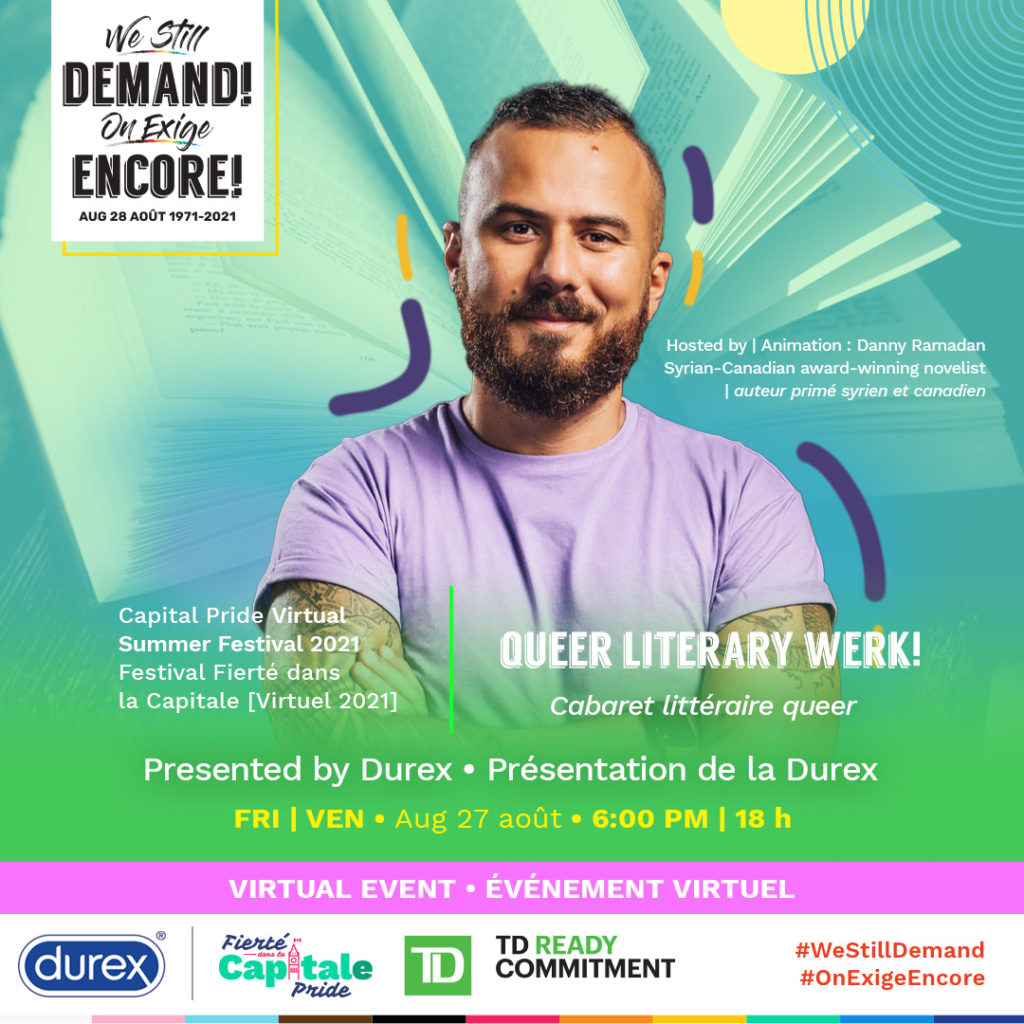 Queer Literary WERK! hosted by Danny Ramadan Syrian-Canadian award winning novelist presented by Durex
Join us for a night of Queer poetry, literature and spoken word from local and international artist for a night of Queer magic. #WeStillDemand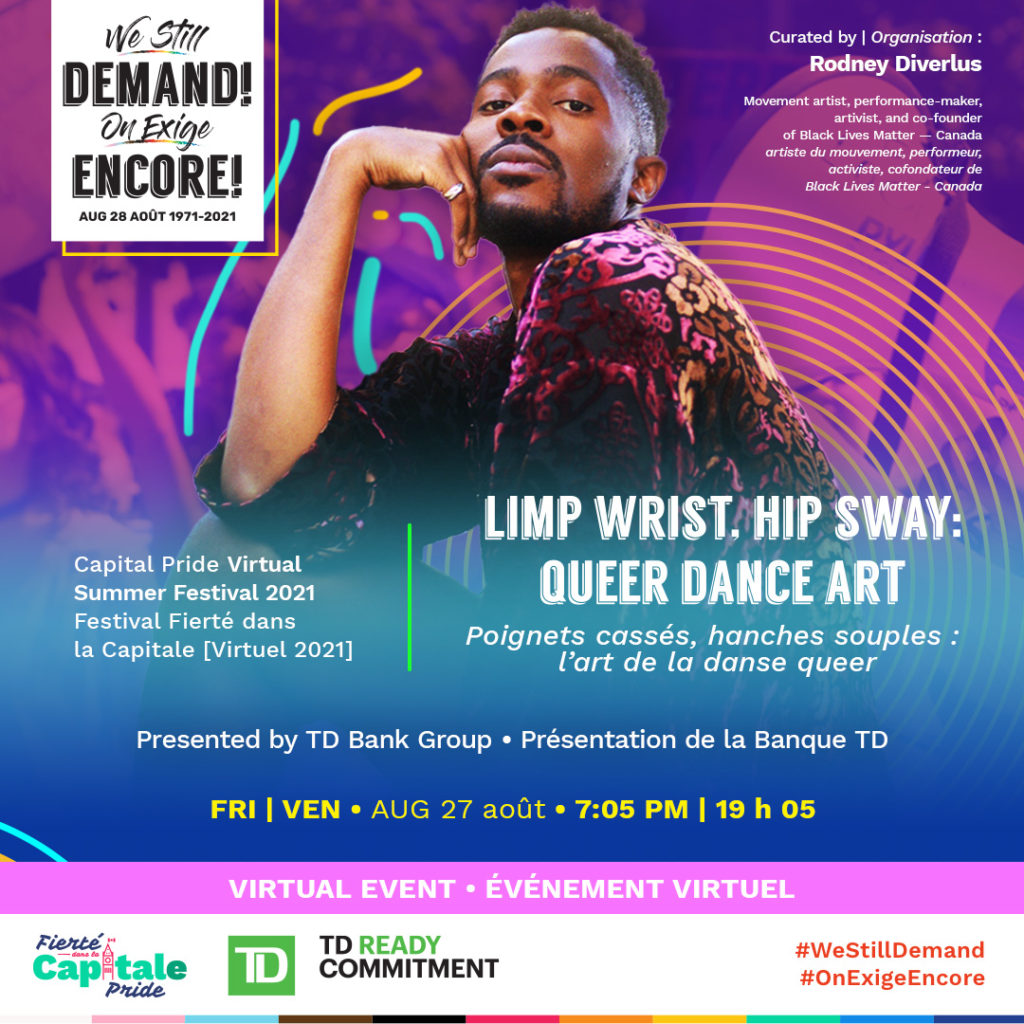 Limp Wrist, Hip Sway: Queer Dance Art presented by TD Bank Group and curated by Rodney Diverlus -movement artist, performance -maker, artivist, a co-founder of Black Lives Matter -Canada
This living room series uses dance and queer movement expressions to connect artists and an audience while dancing and having fun. #WeStillDemand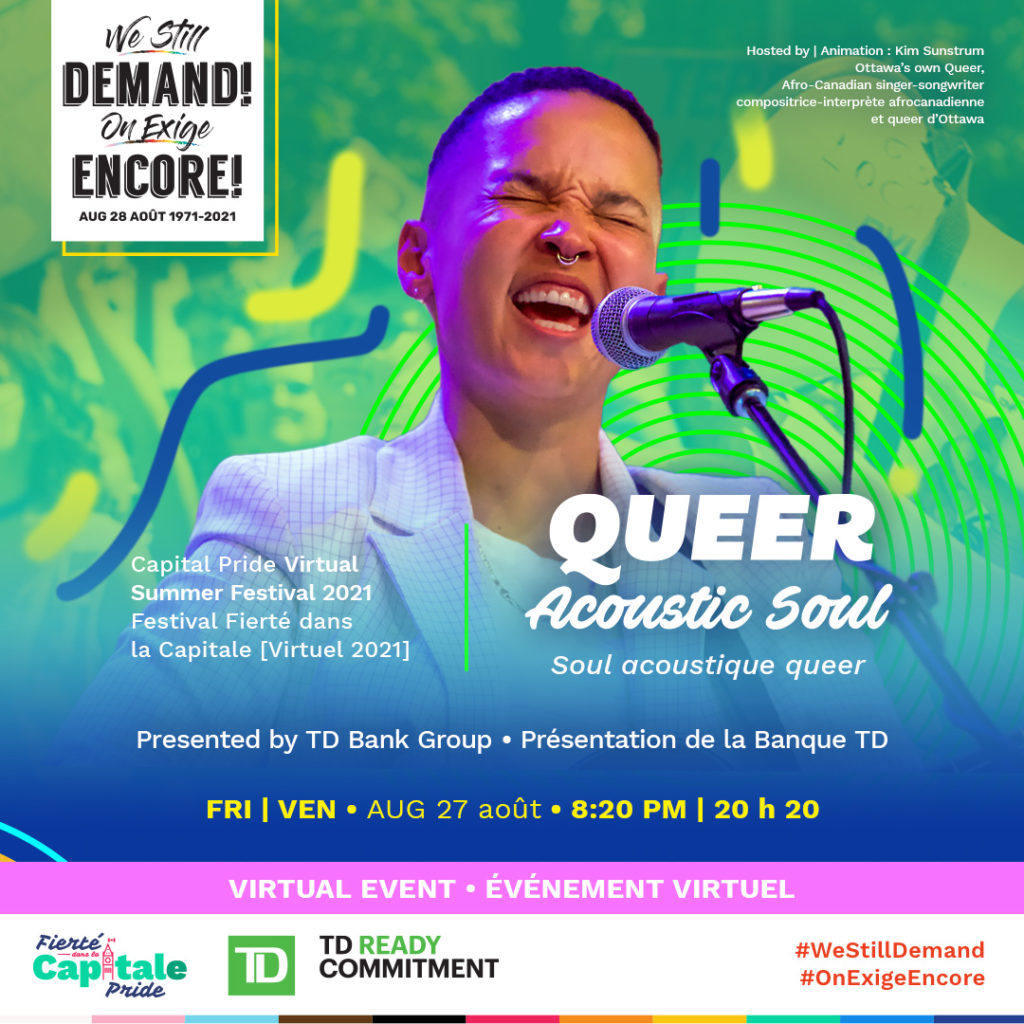 Queer Acoustic Soul presented by TD Bank Group, hosted by Kim Sunstrum- Ottawa's own Queer, Afro – Canadian singer songwriter
Enjoy a night filled with magic and soul as we listen and enjoy the musical talent of great queer artists in the National Capital region and across Canada #WeStillDemand
Saturday August 28th Virtual Events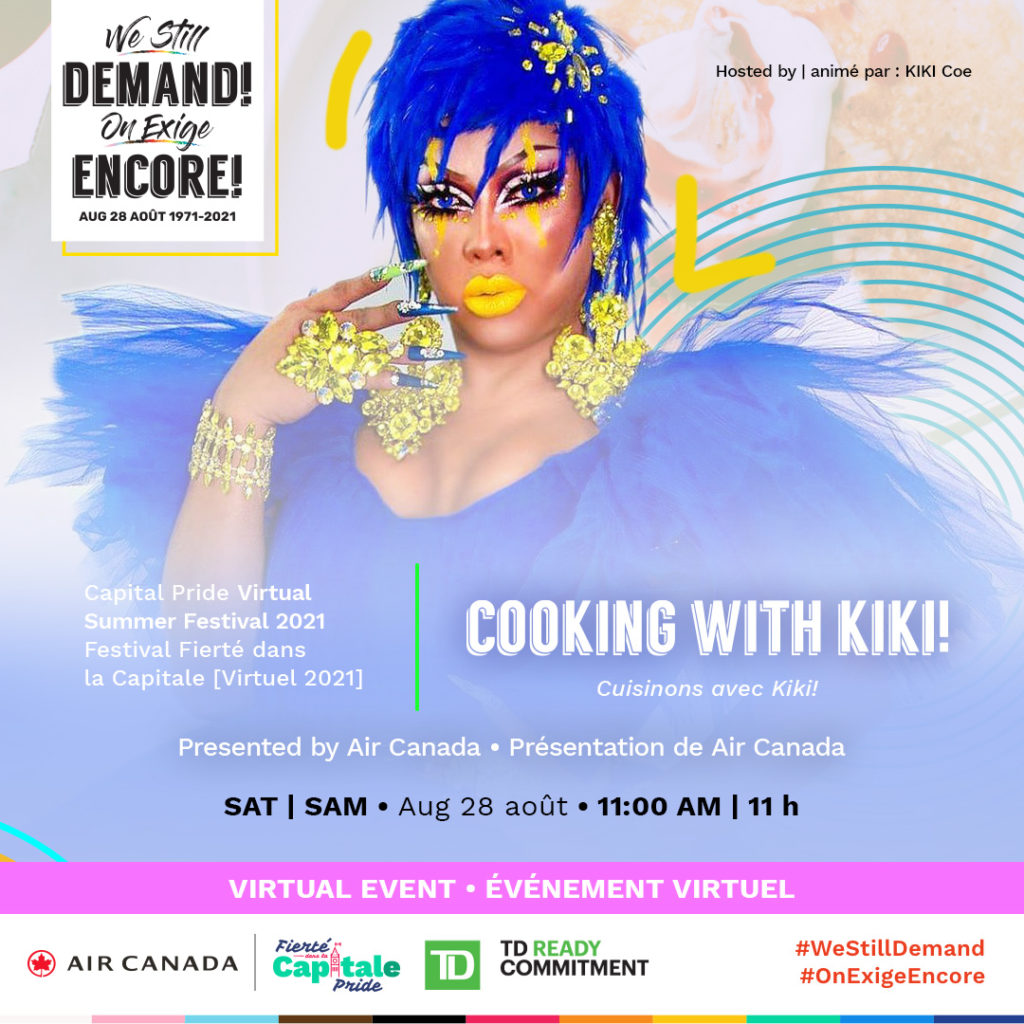 Cooking with Drag Queens presented by Air Canada. hosted by Kiki Coe
Join this fierce Queens as she shows you how to make breakfast fit for a Drag Queen. Join Kiki Coe professional chef as he shows how to navigate the kitchen in preparation to sit, relax and enjoy the Pride Parade. #WeStillDemand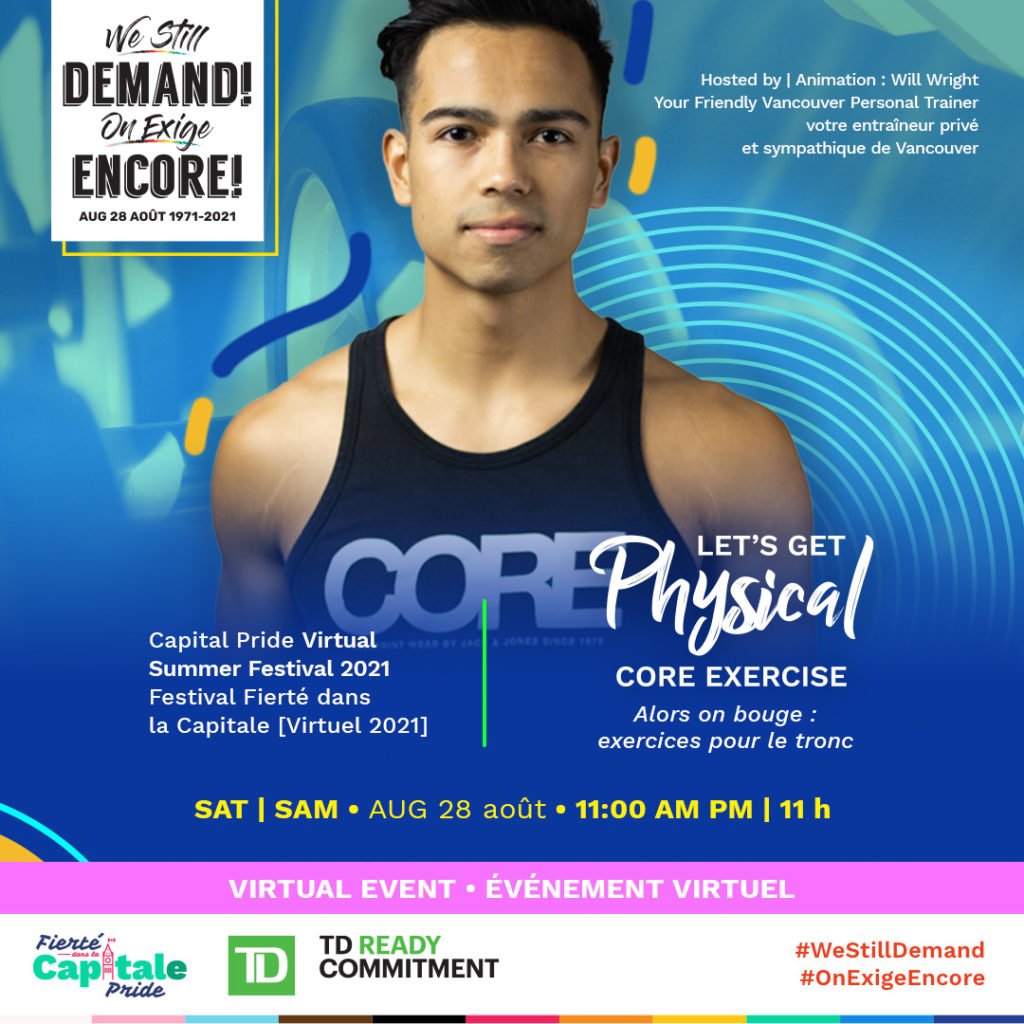 Let's get Physical: Core excercise with Will Wright- Your Friendly Vancouver Personal Trainer
Exercise is a great stress-reliever. While your favorite boutique workout class or fitness center might be temporarily closed or you might not feel comfortable going, that doesn't mean you should stop sweating. In fact, working out might be one of the best ways you can pass time while you're self-quarantined. #WeStillDemand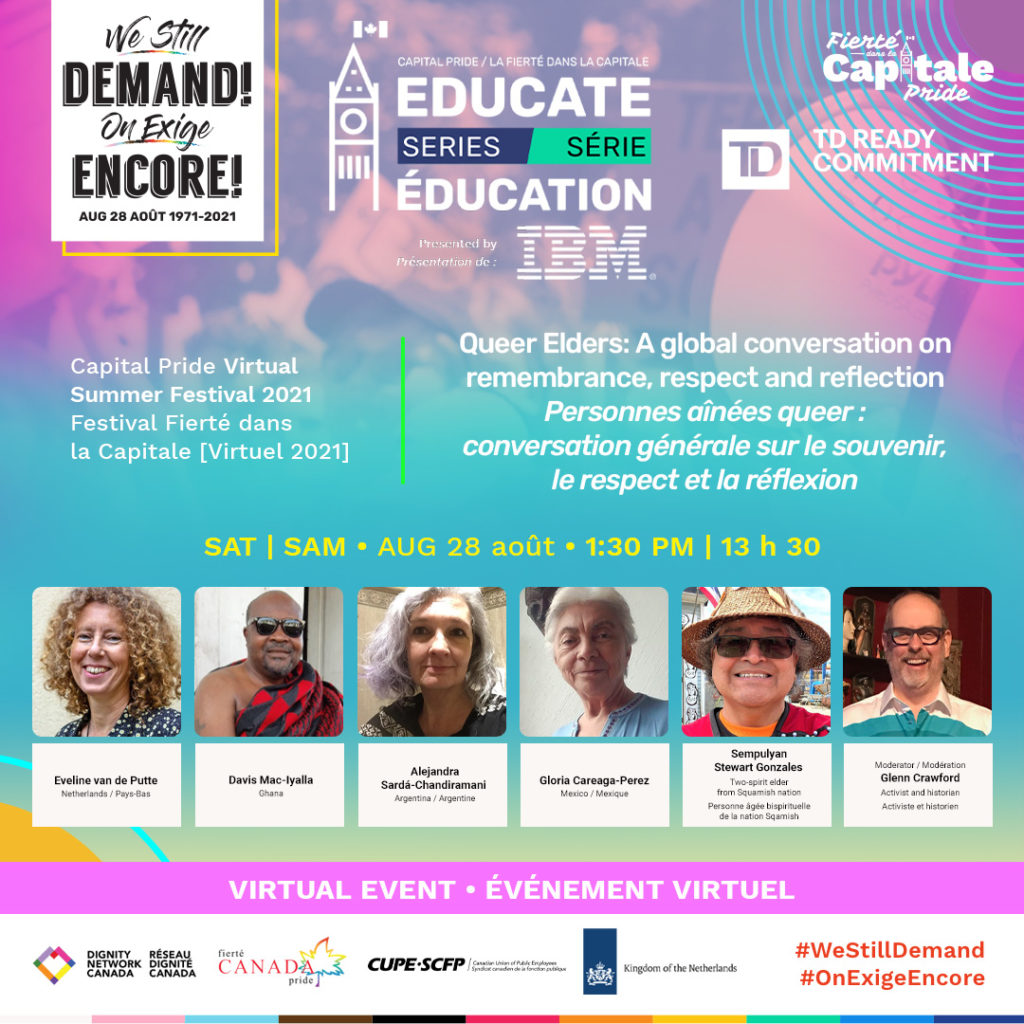 EDUCATE series presented by IBM: Queer Elders: A global conversation on remembrance, respect and reflection.
Co-Presented by: Capital Pride, Dignity Network Canada, Fierté Canada Pride
Event Sponsors: CUPE (Canada's national public service union) and the Embassy of the Netherlands to Canada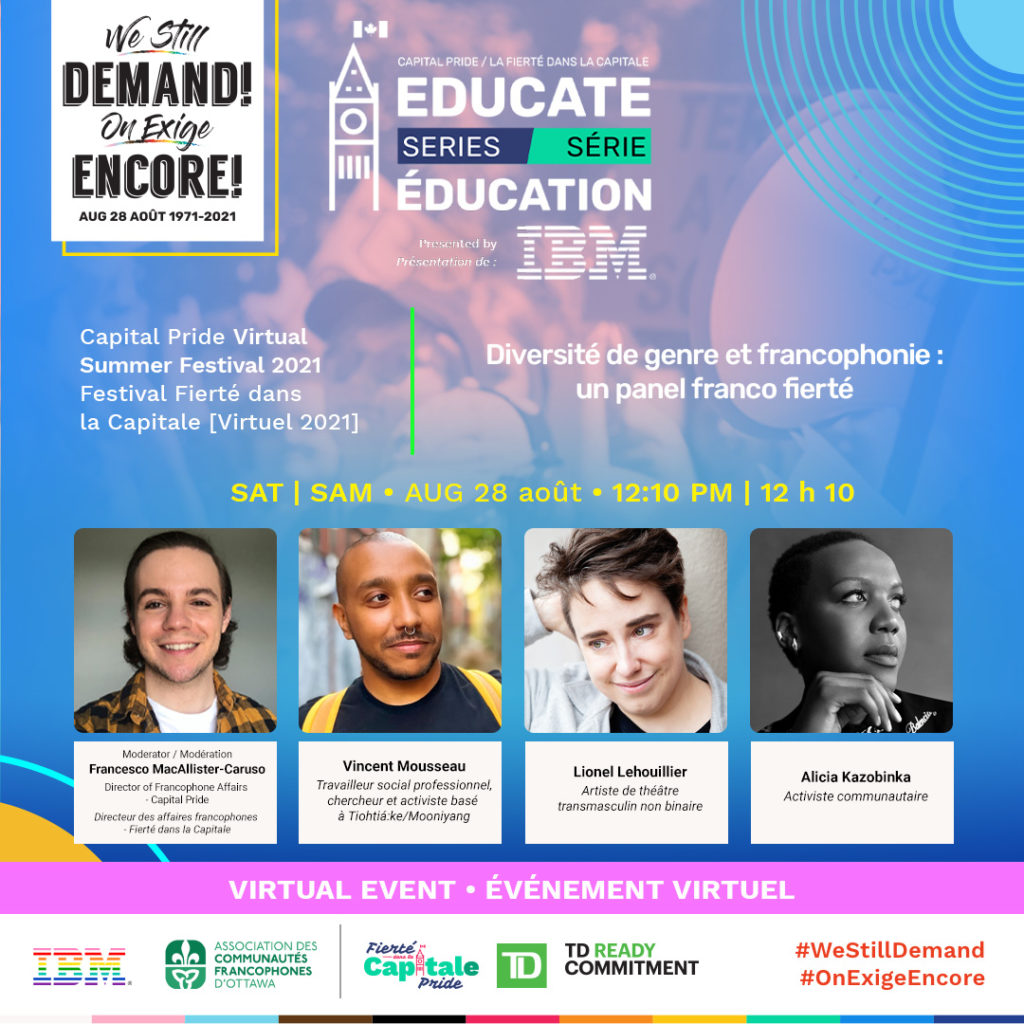 Série ÉDUCATION : Diversité de genre et francophonie : un panel franco fierté
Le français est à la fois une langue explicitement genrée et expressément prescriptive ; selon les règles des institutions linguistiques telles l'OQLF et l'Académie française, il existe de « bonnes » et de « mauvaises » façons de parler français. Comment donc exprimer une identité francophone issue de la diversité de genre tout en évitant l'insécurité linguistique qui y est souvent rattachée? Pour adresser cette question et bien d'autres, la Fierté dans la Capitale vous invite à un panel francofierté sur les identités trans, non binaires et autrement issues de la diversité de genre. Joignez-vous à nous alors que nous explorons les multiples facettes des vécus queer en français #OnExigeEncore!
Sunday August 29th Virtual Events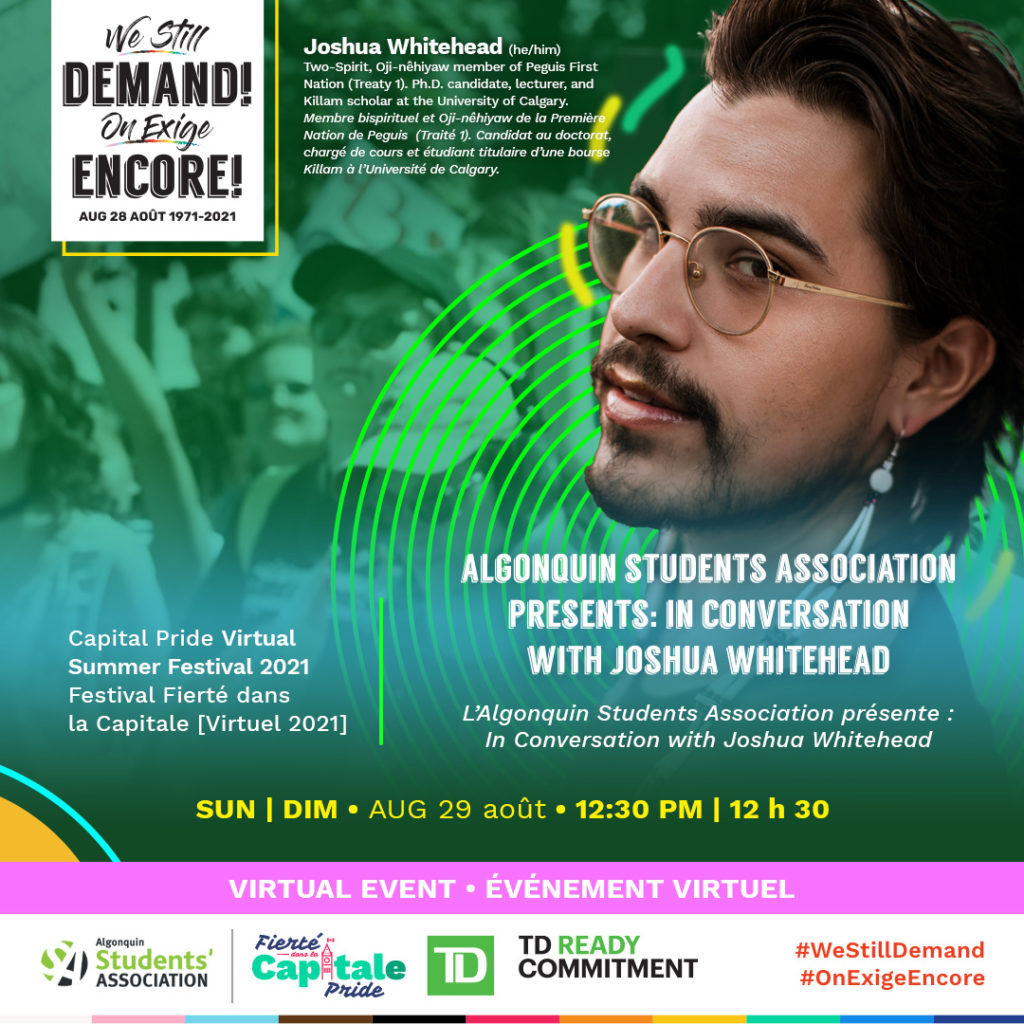 Algonquin Students Association presents: In Conversation with Joshua Whitehead
Soyez des nôtres pour une lecture de poésie virtuelle modérée par Joshua Whithead. Cette activité est un partenariat entre la Fierté dans la Capitale et l'Association étudiante du Collège Algonquin. Il y aura une période de questions pour le public, et cinq personnes remporteront un exemplaire dédicacé de Jonny Appleseed.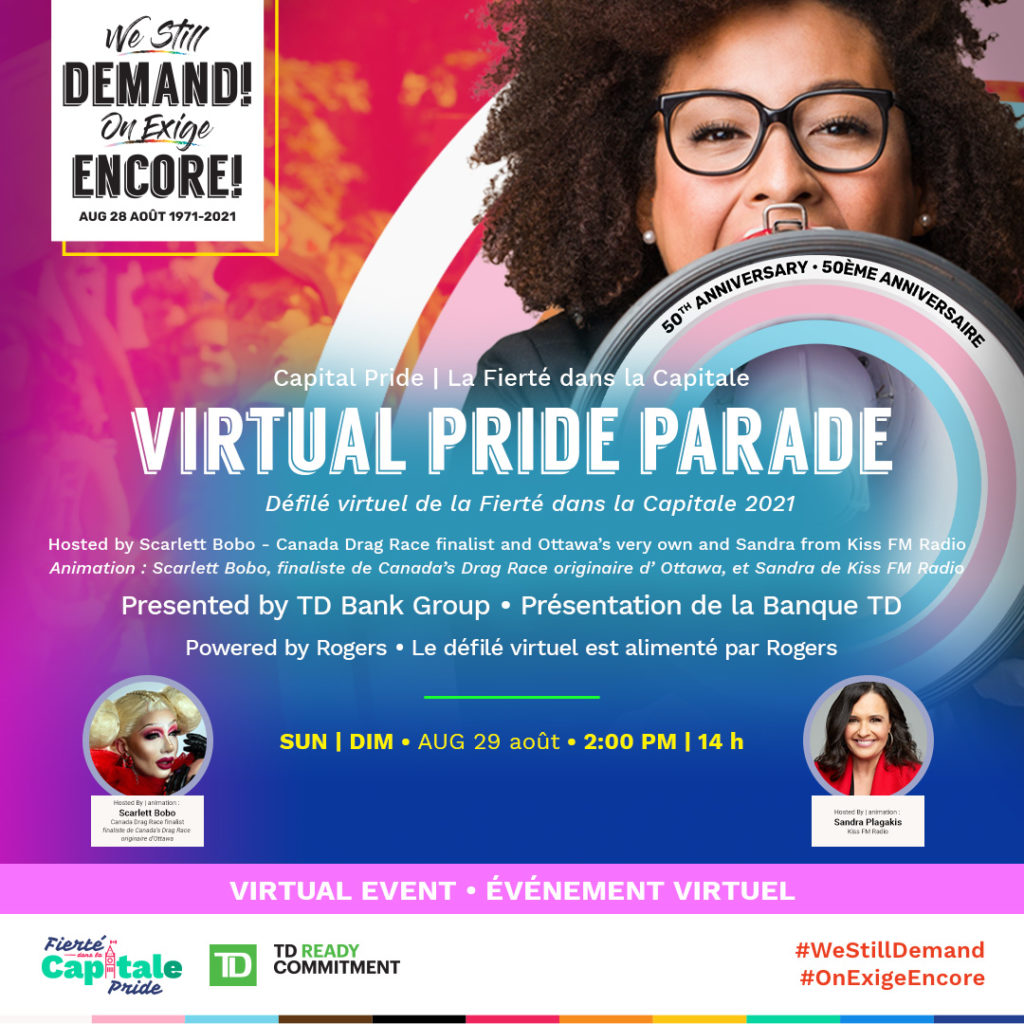 The Capital Pride Annual Virtual Parade 2021
Hosted by Scarlett Bobo- Canada Drag Race finalist and Ottawa's very own and Sandra from Kiss FM Radio
Pride is not Cancelled; Pride will never be cancelled! Join us as we celebrate together virtually during our annual parade. Listen to messages of hope to get you ready in celebrating in person in 2022 Celebrating. COVID-19 will never stop us from celebrating our truth. #WeStillDemand
La Fierté n'est pas annulée et elle ne le sera jamais! Soyez des nôtres pour célébrer virtuellement notre défilé annuel. Écoutez les messages d'espoir qui vous permettront de vous préparer à une célébration en personne en 2022. La COVID-19 ne nous empêchera jamais de célébrer notre réelle identité. #OnExigeEncore!