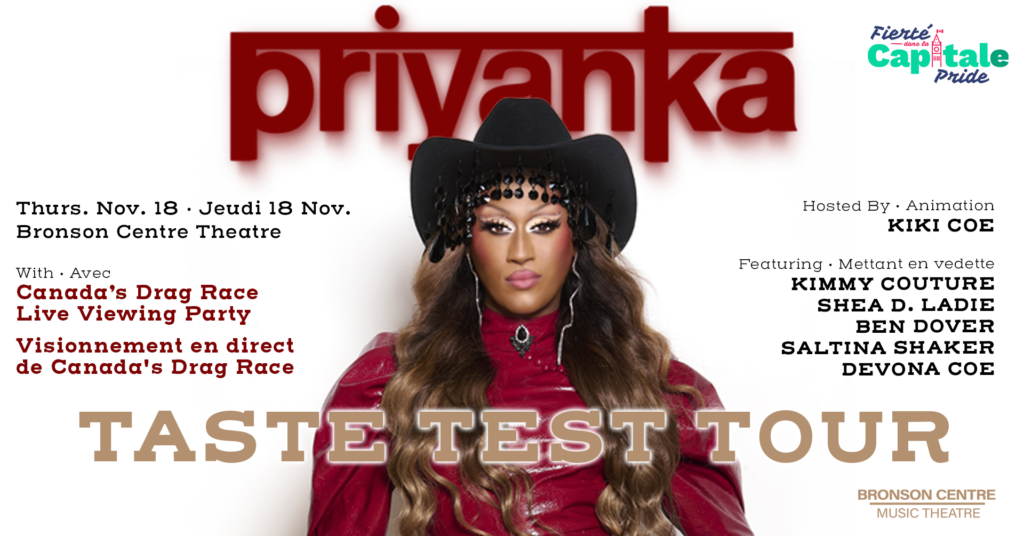 Capital Pride is pleased to present Priyanka's Taste Test Tour, plus a live viewing party for Canada's Drag Race, Episode 6.
Hosted by Kiki Coe with performances by Kimmy Couture, Shea D. Ladie, Ben Dover, Saltina Shaker and Devona Coe.
Most seating is general admission with the option to purchase premium front row seats.
Meet and Greet from 6:00pm – 7:00pm
Doors open at 7:00pm
Show from at 8:00pm – 10:30pm
Canada's Drag Race viewing from 9pm – 10pm.
In line with public health requirements, all attendees will be required to show proof of COVID vaccination. Face masks must be worn in the Theatre.
Alcoholic and non-alcoholic beverages will be available for purchase.
The event is all ages. The Bronson Centre Music Theatre is Wheelchair Accessible. Reserved accessible seating is available by contacting [email protected] following the purchase of tickets.